Art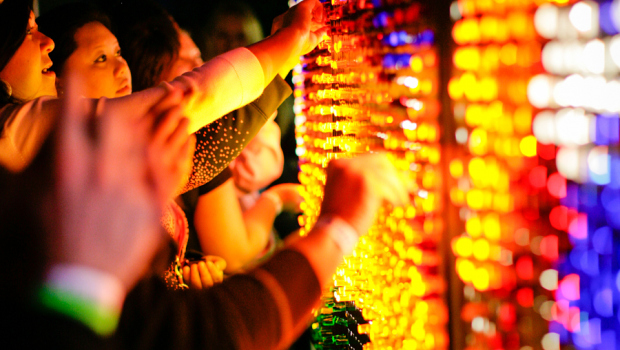 Published on October 4th, 2012 | by Mallory Nezam
0
Art on Track and CMYKittens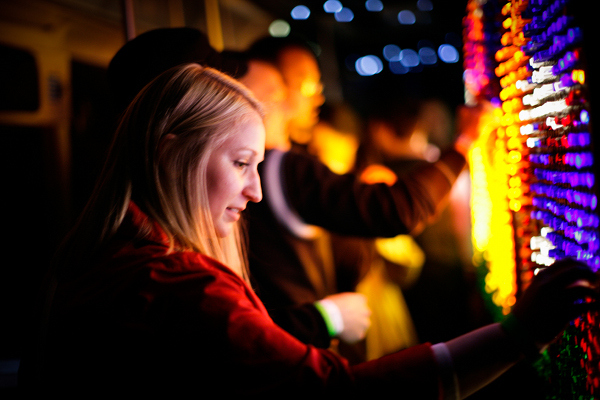 There is nothing quite like Art on Track. This art exhibition is the largest mobile art gallery in the world. It challenges artists to convert the interiors of Chicago EL train cars into works of art. Yes, convert. What you will not find at Art on Track is hanging canvases and mounted sculptures. What you will find is a giant paint-by-numbers Lite Brite or an interactive, space-age photo shoot. This year, I traveled to Chicago and spent the big day with some of the exhibition's featured female artists.
As designers, Maria Squeri, Laura Rafson, Erika Galvez and Elizabeth Rosenberg spend most of their days creating on computers. Their design collaborative, CMYKittens, is a project that allows them to move beyond the screen and create what they call on their website, "life-size (designs) people can enjoy." For those of us that are not familiar with design lingo, CMYK stands for the colors associated with color printing: cyan, magenta, yellow and key (black). These ladies have used their background in design to create large installations for Chicago's new art initiative, Built Festival, as well as Art on Track.
The first time I encountered the collaborative was at Built Festival in August of 2011. Their colorful installation, inside of an 8′ x 20′ shipping container, was called Stories. The four artists had created a story board wall where festival goers could contribute drawings while the Kittens delivered interpretive readings. The container also included a live CMYK-process collage and letterpress demonstrations.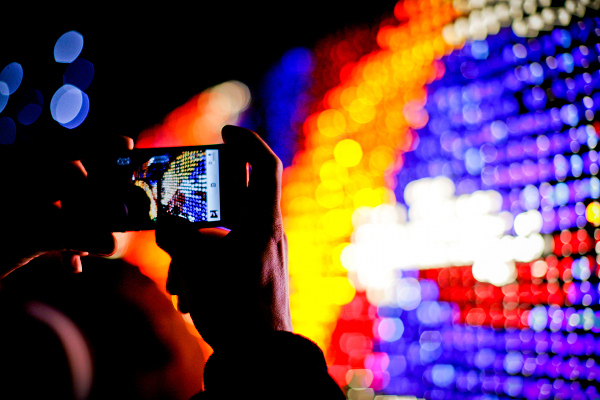 I remember their container being a hit, filled with people of all ages. Who doesn't like stories, big, bright colors and pretty lights? Clearly, CMYKittens knows how to use their design interests to create inviting, public works of art.
The continuity of lights and bright colors worked their way into CMYKittens concept for this year's Art on Track. However, this year, the designers were thinking more intentionally about the unique setting of the El train.
"Last year, we were focusing more on the graphic design process and color," they explained. "This year the CMYKittens [are] going to not only focus on color but also on space. We want to create a setting that makes you feel like you are in a larger place and not inside an EL car."
Considering space, light, color and audience interaction, the Kittens themed their car, "CMYKamping," a name conceived during the rigorous nine-hour installation process. CMYKamping created a feeling of an outdoor camping trip in a train car, the highlight of which included an oversized, paint-by-number Lite Brite.
On the day of the event, the artists and crew met bright and early at a train depot near Chicago's Midway Airport. Then, what felt like an artistic marathon began. Artists have from about 8am until 5pm to install. At 5pm the train begins moving and Art on Track has officially begun.
Working with CMYKittens during the installation, I began to get a sense of their process. The design for the train car was thorough and began with blacking out the car. Any source of light had to be covered up in order to create an alternate reality of outdoor camping. As you can imagine, this was tedious; but I was amazed by how playing with such a simple element like light could seriously transform the feeling of depth in the space. On the ceiling we hung tiny lights, which, Squeri explained, would "resemble stars at different lengths to create a perception of depth like a night sky. Since the ceiling will feel more open we are hoping it will distract the passengers from noticing how small and short the actual car is."
Rosenberg seemed to head the storytelling nook, a corner of the train that was to be converted into an outdoor campfire. The crew laid out some Astroturf, wrapped vines and leaves around the handrails and draped seats in green fabric. Rosenberg then brought in an impressively constructed campfire setting, complete with paper-mâchéd rocks, logs and a flickering fire. She practiced the Chicago-themed ghost stories she had researched, illuminating her face with a flashlight.
Last but not least, the Lite Brite was installed. Let's just say that none of the Kittens are stranger to power tools. When 5 o'clock hit, the group had converted into camp counselor uniforms, each highlighting a different color of the CMYK scheme.
Considering the form — physical, social, historical, political — of the train cars is the greatest challenge to Art on Track artists, and ultimately what makes the successful installations interesting. In this respect, CMYKittens rose to the top. Their paint-by-numbers Lite Brite and campfire stories invited visitors to become a part of the art.
"We love having our viewers feel like they contributed and are a part of the installation," they explained. "It gives a great sense of community and makes viewers feel welcome."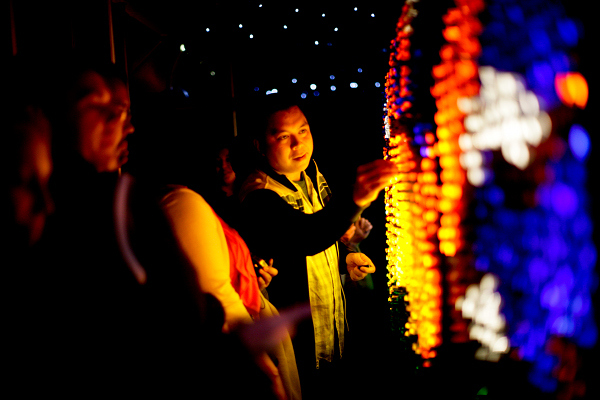 I asked the collective to consider their favorite part of Art on Track. Their answer?
"Interaction. Not only with the community, but with each other. You get pretty close to people when you work with them every day for months! It's a great way to be a part of Chicago's diverse art community and the people you meet at the show that enjoy it as well."
That sounds pretty different from sitting at a computer all day.
For more information about CMYKittens and Art on Track, visit cmykdesignkittens.com and www.builtontrack.com.
Photos thanks to Sara Collins