Art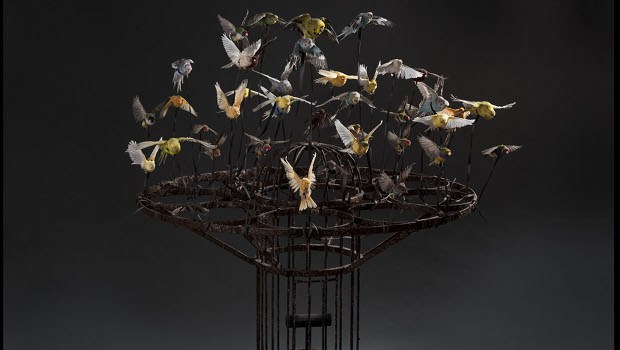 Published on December 27th, 2012 | by Elizabeth Coleman
2
Top 10: Taxidermy Artists
Reminiscent of Victorian fascination with oddities and collectibles, taxidermy art has had a modern resurgence. Taxidermy was once about the preservation of dead animals; but nowadays artists are using this medium to explore universal themes and create unique and beautiful works of art. In many ways, taxidermy can be viewed as mankind's longing to create meaning in the natural world.
"In recent decades, taxidermy and other preserved animal parts have begun to appear in a surprising amount of contemporary art," notes Raquel Poliquin of the taxidermy art website, Ravishing Beasts. "Taxidermy has become a potent medium to discuss a variety of pressing issues: the contours of the line between humans and other animals, questions about conservation and species loss, and more basically to provoke deeply enigmatic encounters with the natural world."
This week, Art Animal brings you our ten favorite female taxidermy artists who use this medium in unique and bizarre ways to challenge the viewer's idea of death and nature.
10. Amanda Sutton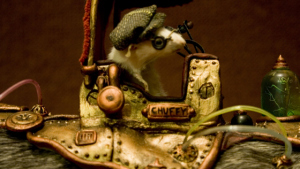 Heavily influenced by Walter Potter, who was the first person to dress up preserved animals in costumes, Amanda Sutton of Amanda's Autopsies has followed in his footsteps to create traditional taxidermy pieces and steampunk critters.
We love the detail found in her creations, particularly her squirrel goggles.
9. Kasey McMahon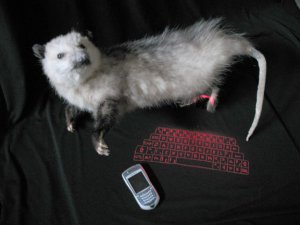 What do you get when you cross a stuffed possum with lasers? The text-o-possum!
Conceptual artist Kasey McMahon uses taxidermy and technology in unusual ways.
After the success of "Compubeaver" she created "text-o-possum," made out of This work a bluetooth laser virtual keyboard encased in an "elegant possum." This piece is a guaranteed conversation-starter at the office.
8. Katinka Simonse (Tinkebell)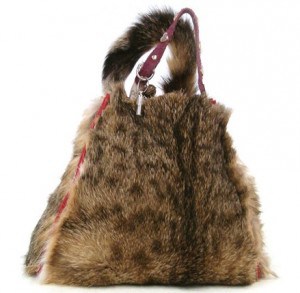 Highly controversial Dutch artist Katinka Simonse (aka Tinkebelle) calls attention to animal rights issues through her taxidermy and live animal art.
In 2004 she gained notoriety by reportedly killing her pet cat and creating a purse out of it, asking viewers why our culture considers it okay to kill animals like pigs and cows for consumption, but not pets. However, after facing public outrage, the media distorting the truth, and criminal prosecution, she explained this was a fabricated story to gain attention.
7. Polly Morgan
British artist Polly Morgan creates still lifes with dead animals as her subject. Her work is highly collectable and sells for as much as £100,000. Her work ranges from whimsical to uncomfortable, highlighting humanity's fascination with death.
6. Carlee Fernandez
Carlee Fernandez's taxidermy work transforms natural objects into new configurations that challenge traditional boundaries.
Inverting binary categories such as animal/human, femininity/masculinity and beauty/grotesque, she invites the viewer to engage in a dialogue with her conceptual pieces.
5. Kate Clark
Kate Clark explores the tension between human and mythical realms by creating sculptures of wild animals with human faces. Her work intentionally evokes a duality, inviting the viewer to recognize and reject the figure, ultimately bringing new depths to her sculptures.
4. Sarina Brewer
Artist Sarina Brewer of Custom Creature Taxidermy remakes the natural into the unnatural, creating taxidermy fantasy creatures like mermaid goats or gryffins.
As a child, she was fascinated with cryptozoology and the anomalies of nature. This fascination is manifested in her eccentric and fanciful composite beats.
3. Lisa Black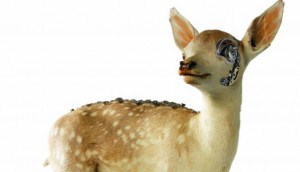 New Zealand-born Lisa Black combines the aesthetics of steampunk robotics with taxidermy art.
Her art is unique because she incorporates computer and mechanical gears with dead animals, creating robo-creatures, and challenging our perceptions of what is considered "natural."
2. Julia deVille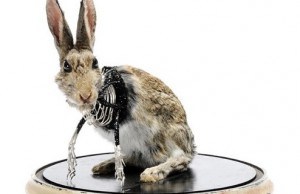 "Memento mori," Latin for "remember you must die," is a genre of art that was popular throughout the 15th to 18th centuries which reminds people of their mortality.
Julia deVille incorporates this aesthetic into her eccentric taxidermy and unique jewelry pieces to remind her viewers to celebrate life and enjoy the present.
1. Iris Scheiferstein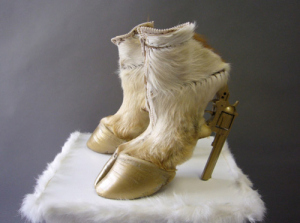 German artist Iris Scheiferstein has worked with dead animals for many years, combining the pieces in unique ways to give a new face to death. "The earlier you die – the longer you are dead," is one of her favorite mantras.
Our favorite taxidermy pieces by Scheiferstein are her heels, which make it look as though the wearer has hooves. The heels were so shocking that she was threatened with a jail sentence for her "obscene" work.
Featured image: "Exitus" (c) Polly Morgan. Photo courtesy of the artist and Breed London (www.breedlondon.com)