Art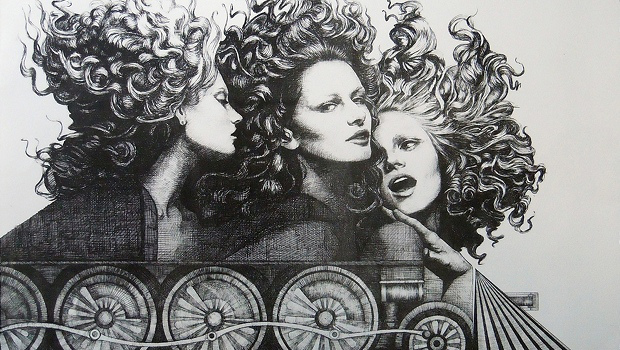 Published on July 18th, 2013 | by Marc Londo
1
Anastasia Alexandrin's Powerful Female Forms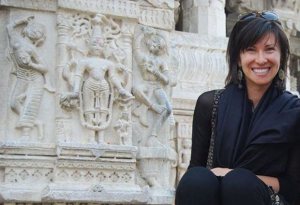 Anastasia Alexandrin's style is unmistakable. Interlacing lines of charcoal and gritty overlays infuse her female subjects with an ethereal quality. Her masterful integration of line and tone within the framework of her narratives evokes nostalgia and introspection. But though her work reflects another time and place, nonconformist message speaks to a uniquely modern view of womanhood. For, in an Alexandrin piece, women are free to create a life beyond the manifestations of societal expectations.
Alexandrin dares her female subjects to seek out their individuality. In the process, she constructs an elaborately surreal world of angst-ridden reflection, captured through metaphors that address female efficacy. Her use of archetypal symbols allows for greater identification between the viewer and the subject. However, Alexandrin quickly points out that each woman's experience is unique, and her art speaks to a greater societal incongruity. "Who am I?" she asks unassumingly, noting that one's identity is shaped by so many forces that her art will quite naturally be perceived differently depending on the perspective of the audience.
Alexandrin earned her BFA at the Pennsylvania Academy of the Fine Art in Philadelphia. Her art has appeared in solo exhibitions throughout New York, Philadelphia and San Francisco, as well as in group exhibitions all over the United States.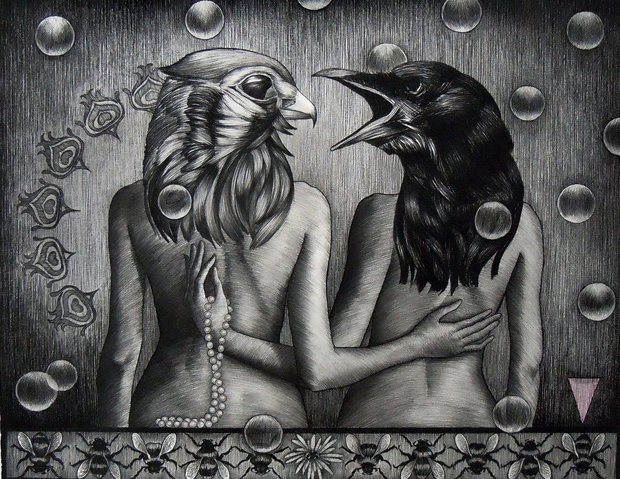 What is important to Alexandrin is that women recognize their power to transcend societal expectations. In that regard, her interwoven lines of charcoal could be likened to a butterfly net that has been cast between the audience and subject. This illusory barrier is reflected in the expressions on the faces of her female subjects, who often appear to be conscious of the viewers even though they remain static; they have their own worlds to conquer.
Seeking to understand the diverse worlds in which women navigate the traditional expectations of social structures, Alexandrin has traveled the world as a resident artist. Earlier this year, she spent three months working at the Verve Artist Residency in Ahmedabad, India. It is an immersion process that she engages in enthusiastically to escape the cocoon of her studio.
Donning a sari that reminds her of her time in India, Alexandrin spoke with Art Animal to provide further insight into her work.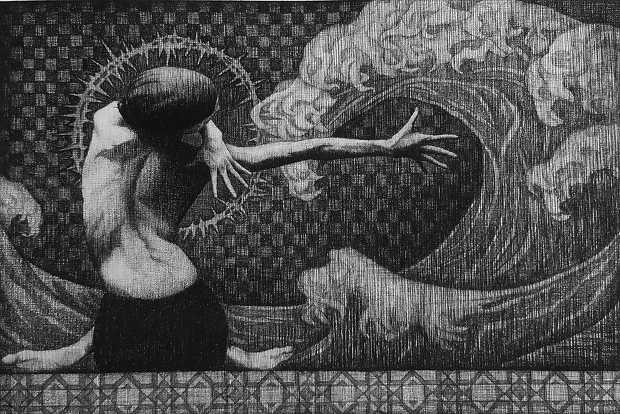 Art Animal: You just returned from an artist residency in Ahmedabad. As an artist who gives social commentary on forces influencing female identity, did you find yourself impacted by the gender role expectations of Indian women?
Anastasia Alexandrin: India is an amazing country with many facets. It is hard not to be affected by all that I saw and experienced. Indian woman have my respect. They fulfill many roles and are not seen as equals. It was tough to see. But the woman I met were so strong (stronger than I have ever met) and so smart. They were very aware of the circumstances and yet they held their heads high and did not dwell on the bad. They always looked at the good things in life. It was a humbling and eye-opening experience.
AA: How has your work as a residency artist helped you grow as an artist?
AA: The more places I travel to, the more people I meet, it all broadens my views, which I then put into my work. I can relate and share broad views and pictures of what it's like to be a woman in today's world. My journey is far from complete and there is plenty of room to grow. I can't wait for my next trip or residency to broaden my horizons.
AA: Do you feel your own cultural background as an immigrant from Kharkov, Ukraine, has contributed to your artistic interest in issues of female identity?
AA: I think being an immigrant has helped me become more aware of who I am and where I was from a younger age. In many ways, it was easier to identify differences and similarities in my environment. It also made me search harder for a life I want to live.
AA: Being a charcoal artist, your art has the same sort of timelessness seen in vintage photography. In some of your work, it even feels as though you are tapping into social memory to comment on issues that women are still confronting today. Why do you work primarily with charcoal?
AA: I don't know if I chose the medium as much as it just always felt right. Charcoal drawing has always been a very honest medium for me. There is so much transparency within the layers of lines. Even the darkest darks have light coming through. My subjects and topics are timely and relevant. Every moment I feel today becomes the past like a vintage photograph. Some are worth keeping and others are not. Hopefully, they are worth another look.
AA: Who have been some of the biggest influencers of your style?
AA: I don't think anyone has influenced my style. There are many artists that I admire and of course I am a sucker for black-and-white photography. I am a great admirer of Kathe Kollwitz. She drew and printed images that moved her and were relevant to that time. They are still beautiful and relevant today, too.
AA: Your art has a repetitive visual vocabulary. In Reach, a wave crests just beyond the outstretched hand of your female subject. A wave also served as the antagonist in Grace, Three for the wave and No wave big enough to stop me. Where do these symbols come from?
AA: My inspiration is very visceral. It just comes to me. Sometimes, I can't put it down on paper and sometimes I can. I sketch a lot. That helps keep an inventory of my ideas for the future. In that way, it comes out very different from the original idea at times. Water is very fascinating and full of meaning to many cultures. It can be kind, generous and sometimes deadly. It is a great symbol of our time.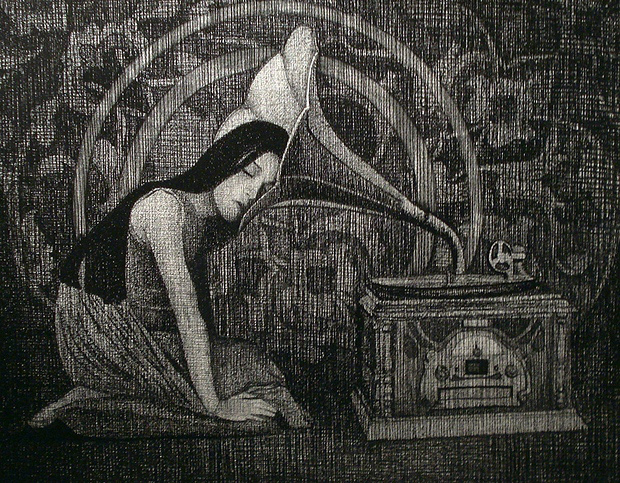 AA: In many of your pieces, your female subjects seem to be aware that they are being watched by the viewer. Do you feel as though there is a bigger microscope aimed at women that make judgments about beauty rather than ability?
AA: As John Berger said, women are watching you watching them. While I don't agree with that as a general rule about woman, in art there is a certain feel of that, which I like. I want my pictures to be looking at you as much as you are looking at them. As if they are aware of your gaze and know someone is watching. We all look and form decisions about what we see. There is always a chance to change what is decided in this day and age. It's always changing. I feel we have learned, as a society, to not assume that beauty has no brains. We have learned that there is complexity there. A beautiful complexity is what I love to draw about.
AA: How does your art respond to popular culture objectifying the female body?
AA: I don't know if I respond at all. I focus on the strong, beautiful complexity of females of our times. The power of female abilities is my subject.
AA: Much of your recent work features a modern Egyptian motif: a female body with the head of various animals. Would you consider these pieces to be a progression of your earlier work, or is this a completely new direction?
AA: It all comes from me and in some way is connected to my earlier work. My hope is that it holds its own. Animals are great symbols of transcendence and I use them to further ideas in my work. We all have animal instincts and reactions. I convey that in my imagery. Egyptian motifs have a message. They were not made for the simple sake of beauty and pleasure. They were telling a story. Mine, too, tell a story.
For more about Anastasia Alexandrin, visit her website at aalexandrin.com.