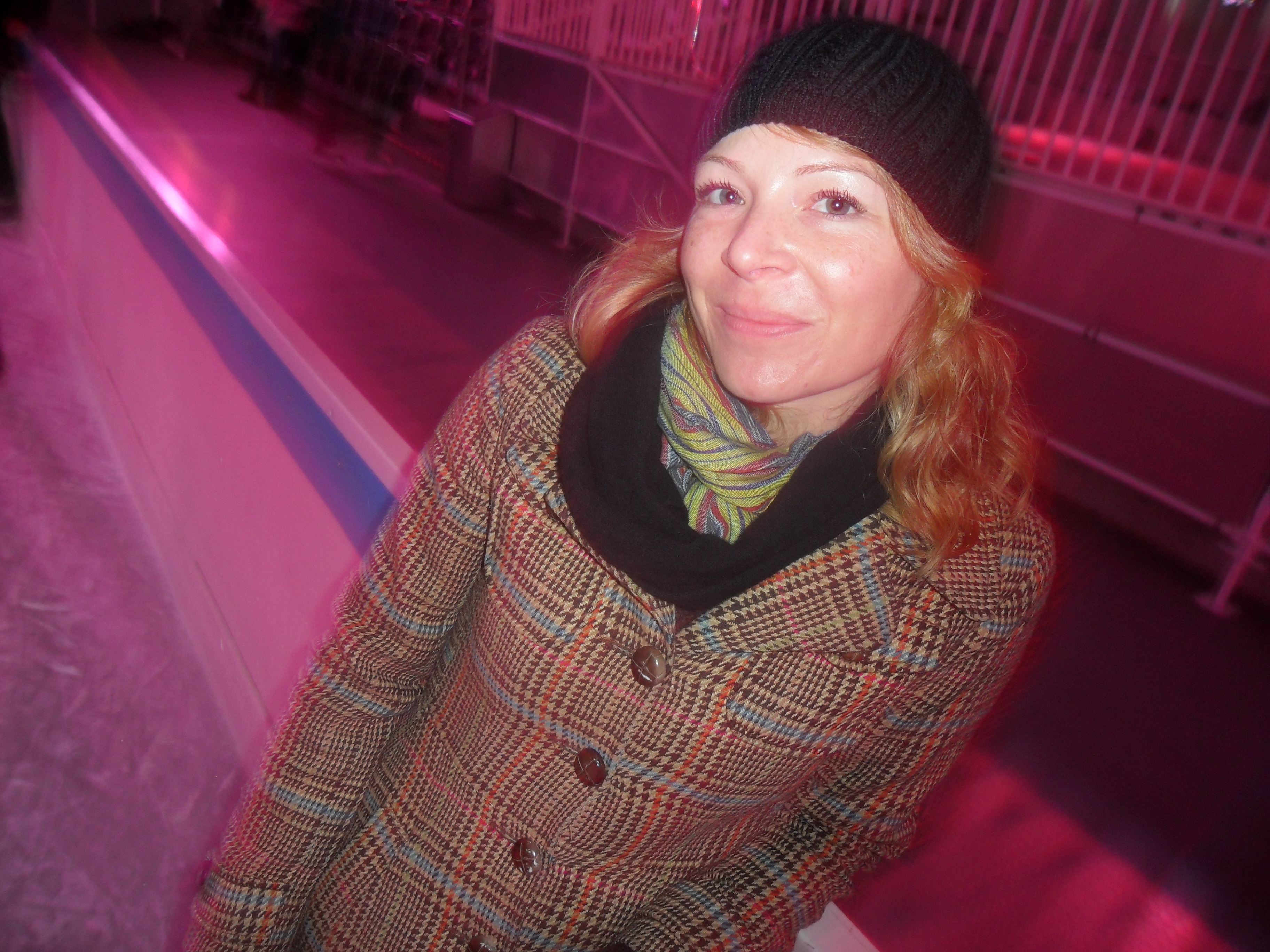 Name: Allison
Posts by amccormick:
September 4th, 2012

Though the Western world has now fully embraced yoga, meditation and even Bollywood dancing, far fewer westerners know of Bharatanatyam, a traditional south Indian dance. The dance is as difficult to perform as the word is to pronounce, yet one American has boldly made her way into the Indian world of Bharatanatyam and will soon showcase her talent in Calicut, under the harsh scrutiny of professionals, gurus and even the Calicut media. Jessica Albrent, student of the renowned N. Srikanth and Aswathy Nair, is now preparing for her arangetram.

Bharatanatyam is a dance like no other in the world, requiring from its students a perfect blend of "spirituality, discipline, physical mastery, ritual and established form," Albrent explained. "All good dance is an expression of the soul and human emotion, thoughts and experience — but Bharatanatyam is, first and foremost, a prayer and offering to the gods. The ultimate goal is not the performance, but the closer connection between the dancer and the gods."

Bharatanatyam, in its modern form, has moved from the temple to the stage, "though it still retains its spiritual aspect," she said.

The arangetram is a dancer's debut performance, her introduction to the professional dance world.

"It is an important time between the guru and the student," Albrent said, "when the guru presents to the world the student as a fully qualified dancer. It takes mutual trust to do this."

Not only is Albrent's arangetram an accomplishment in itself, but she has prepared herself in just two years (most students spend five or more), she is 30 years old (a rather ripe age for a beginning dancer), and is a westerner on a very eastern stage. Art Animal had the pleasure to join Albrent and her local guru, Anu Siva, in a grueling, sweaty Bharatanatyam class before getting the juicy details of Albrent's rapid and impressive development as an artist.

Art Animal: Throughout your training, what challenges have you faced as a westerner? As a woman? Personally?
Jessica Albrent: Let me say something clearly: Bharatanatyam is hard. It hurts all the time. It doesn't matter how much you practice; your legs will always shake and you will always drip sweat at the end of a class. It looks easy but it is not. It's normal for students to cry in class because it hurts. Gurus will see a crying student and say, "It hurts? Good, it's supposed to." There is no pity for pain in Bharatanatyam.

The worst is the physical demands related to age. The dance requires a lot of strength and, as the level of my dance improved, more flexibility. It's so hard to have that flexibility as a 30-year-old. I feel, had I started ten years ago, I would have improved faster. I have to watch my ankles and knee position as some problems I have there can easily be aggravated. I always have some pain or injury in dance; the pharmacist on the corner was my best friend this summer. And I can't move my feet very fast.

My teachers interact with me differently than they do with their other Indian students. While they will be easily irritated with the mistakes and poor dancing of their Indian students, for me they are willing to do the same part of a dance as many times as I need and they don't lose patience. I am fortunate that they recognize I am not a typical student. Dance itself is new, as I have no dance background. Learning choreography is a special trial for me. However, I have found that as long as I am willing to work hard, my teachers are willing to help me through all this. Not every teacher would have that level of patience and understanding.

AA: How does one choose a guru? How did you find yours?
JA: I am a disciple of N. Srikanth and Aswathy Nair. They are a husband and wife team of dancers with a dance school, Nrityalaya, in Kozhikode, Kerala. I am also a disciple of Ms. Anu Siva here in Tanzania. I started dance with Anu two years ago. She was my first teacher and remains an incredibly important and supportive teacher with whom I do my daily practices. She did not want to take me as a student; adults quit because it is physically hard and they do not have enough time to devote to practice. However, after a great deal of badgering, she accepted me as a student. I wanted to take an intensive course over my summer vacation in India, and Anu warned me it would be almost impossible to find a guru willing to accept me.

She was right! You have to know someone or have a personal relationship with a teacher to have him accept you as a student. There is a ritual where a new student gives an offering and does namaskaram (touch the feet) to the guru. From Tanzania, and with no contacts in south India, it was difficult to establish this relationship.

AA: Explain the guru-student relationship. How important is the guru?
JA: The guru is the most important person in a dancer's life, especially at the start of a dance career. Dancers present their credentials by first stating who their gurus are. By doing that one describes a great deal — where one comes from, a probable education level, style of dance, and the quality of dance. A student can say who their guru is and you will get a picture of what their dance is like.

I must listen to everything my guru asks me to do. He told me to stop cutting my hair, so I have the longest hair I have had since I was nine. He told me to not dye my hair a light color, so my hair is brown though I prefer blonde. He told me to lose weight, so I am on a diet. He advises me on my costume and I always follow his advice. He will tell me which musicians to hire, which hall to rent, the makeup artist to hire, what my invitations must look like, and I will do what he tells me. I ask his permission before I perform on my own anywhere and do the dances he suggests. I learn what he tells me to learn, and take the classes he tells me to take. I am a pretty controlling and independent person, and prefer to do things my way, but it is clear to me Srikanth really does know what is best. The best thing for me is to do what he says, and I have no problem with it. There is no one else in the world with whom I have that relationship. In return, a guru is putting himself on the line. A student of his who performs badly discredits his teaching and reputation and, in a world where it is all about reputation, this is a terrible thing.

AA: Do you find meaning in the mudras (hand movements) and the poetic lyrics, especially since the dances depict Hindu gods and stories? Are the messages universal?
JA: Sometimes certain phrases trip me up. The one that really got me was in a piece describing Ganesha and his "lotus feet." I pictured an elephant with flowers on his feet, and then I pictured the ancient tradition of Chinese foot binding and put that on an elephant. Either way, it was silly and I couldn't help laughing. I had to ask for clarifications several times before I clearly understood the meaning. It's similar to the "angels don't tread on the earth" idea.

The messages are entirely universal. Hinduism is not a simple polytheistic religion; it is so complicated. The gods all show different aspects of the divine. It's like an English lit course on archetypes. The mother goddess, the cycle of destruction and life, wisdom and beauty, good and evil, fierceness and love, joy and despair — it's all there. Those universal and timeless themes are presented in Bharatanatyam. It's not the oldest form of dance for nothing!

AA: The Natya Shastra, an ancient Indian treatise on the performing arts, describes female Bharatanatyam dancers as "women who have beautiful limbs, are clever, courteous in behavior, free from female diseases, always bold, free from indolence, inured to hard work, capable of practicing various arts and crafts, skilled in dancing and songs, who excel by their beauty, youthfulness and brilliance." Do dancers have to possess these qualities inherently or are they acquired throughout the course of training? What do you think are required attributes of a Bharatanatyam dancer -— both inherent and acquired?
JA: The Natya Shastra is the work on Bharatanatyam, but the role of the dancer has changed since then. My teacher has told me the three most important qualities are hard work, a sense of rhythm and good expression. Some of the most revered and loved dancers are older ladies who are chubby. Their age and body types do not diminish their dance, which is one major way that Bharatanatyam differs from western forms of dance. Skinny and graceful are not the ultimate standards in Bharatanatyam.

AA: Having suffered through a few arduous classes, I know that Bharatanatyam requires tremendous discipline. Is there still room for artistic expression? For the dancer as well as the choreographer? Do you consider yourself an artist?
JA: Not at first. When a dancer is learning her first pieces, it is up to the guru (who is the choreographer) to help the student interpret the dance. As the training moves along, though, more of the student is put in the dance. A good guru will adjust a piece for a student. Although my teacher will sometimes give me specific instruction on my expression — "look here, not there" — most of it is up to me and my expression and mood make the feel of the piece. The dance eventually becomes an example of that guru-shishya [student] relationship, where both the dancer and the guru have input in the dance.

Within my own arangetram, I do what my teachers tell me to do, but I have input as well. I have requested a certain piece and expressed my interest in different aspects of dance. My teachers move to accommodate that. I have asked to do a piece in English. Srikanth does not normally choreograph and dance to English songs for many reasons, largely because he feels the music is too unconnected to the dance form. However, he understands my argument for it, and has agreed to work with me on an English piece. Together we adjusted the costume to fit the piece and chose music we both liked.

Abhinayam (expression) is a vital part of Bharatanatyam. Without that, it's just steps to music. The career-ending criticism of a dancer will not be poor execution, but if there is no feeling, no emotion and expression behind the dance. It can be clean, beautiful and perfect, but without that special something, the whole point of the dance is lost. I have just gotten to that stage where my own ideas and expression are put into the dance. As that happened, dance became much more important spiritually, and it became a vital part of my life.

AA: In what way has Bharatanatyam changed your life: both for better and for worse?
JA: Only for the better! Bharatanatyam helped me through an incredibly difficult and lonely time in my life. It gave me the strength and perspective to put away some terrible things and separate myself from harmful influences. It has provided a focus and direction, opened up new opportunities and gave me some great adventures. The intensity of the training forces me to look inward and examine myself, examine who I am and how I can be better. It makes me more confident, but also more humble.

For more information about Bharatanatyam, Jessica Albrent and her arangetram, please visit her blog at jalbrent.wordpress.com.