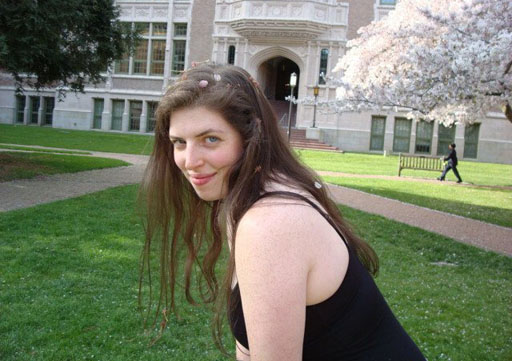 Name: Setsu
Web Site: https://katanapen.wordpress.com/
Bio: Shot from New York like a bat out of hell, Setsu is a writer and collector of stories. She recently graduated from the University of Washington with a degree in Chinese Language & Literature. Her coursework included a stint at a monastery in rural China, where she studied swordplay and Daoist philosophy. Setsu is a co-founder of writing groups in Seattle and San Francisco, where new writers can take their first steps toward publication. She has dabbled in many arts, but only martial arts and writing seem to have stuck. Visit her blog at KatanaPen.wordpress.com
Posts by suzume:
December 13th, 2012

Opera on Tap, a nonprofit dedicated to making opera as accessible and ubiquitous as pop music, was established in San Francisco in the Spring of 2011 with its first performance on a balmy night in August. The organization was originally born in New York, where co-manager Indre Viskontas was first cast in the nascent project. Viskontas sensed it would be well-received in San Francisco where the Classical Revolution was already in full swing. She contacted a fellow singer, Katherine Gerber, to start planning to bring the project to the Bay Area. The rest is history.

"It's our mission to provide live music to the San Francisco community," Viskontas said.

Opera on Tap utilizes the talent of the San Francisco community as well, frequently collaborating with local instrumentalists for their shows, including guest flautists, pianists, clarinetists, cellists and ensembles like the Oakland-based Town Quartet. All of Opera on Tap's singers are musical professionals or aspiring professionals, who would probably do nothing but sing if the economy allowed it.

Unlike normal opera casts, Opera on Tap isn't constrained by the demands of casting, so the group has been able to create a roster that is more representative of Bay Area singers, meaning that for every tenor there are 10+ sopranos. As a result, Opera on Tap tends to have more women than men in their shows.

"Because there are fewer male singers than female singers, many opera companies treat men and women differently with respect to pay and other benefits," Viskontas said. "For example, a man might be paid more for a role than a woman, or be allowed to skip more rehearsals or get cast with less experience. We have chosen not to distinguish between men and women in that way and as a result, our programs feature more women than men."

In general, opera's elitist reputation has certainly harmed it over the years. Opera emerged from court performances and still carries an aristocratic air, making it seem obsolete or inaccessible to everyday people. Opera on Tap is all about making it easy to access and enjoy. Each performance is a cross-section of dozens of shows in a variety of languages and styles, giving listeners the chance to pick and choose forms they like (and ignore those they don't) without having to pay the high price of season tickets.

"When I hear someone say 'I don't like opera,' it's often because they haven't explored the various subgenres," Viskontas said. "It's like saying 'I don't like movies' after seeing one bad horror movie."

Opera on Tap works to be an inclusive affair, bringing live music from the gilded concert hall to the tavern around the corner. Each event is a sampler platter of sorts that whets your appetite for more: a treat for both connoisseurs and initiates new to opera. Opera on Tap is designed to give people an accessible, inexpensive and welcoming environment in which they can discover opera's many facets.

"Of course, I enjoy audience members who know the repertoire very well," Viskontas said, "but I'm particularly excited to introduce opera to people who never thought they would be moved by it."

I, myself, was recently blown away by "With Strings Attached", Opera On Tap's November performance with the Town Quartet at Café Royale in San Francisco. The café provided an unusually intimate setting for opera: a spotlight, a few chairs for the orchestra and a digital projector for translations made up the stage. But even lacking the acoustics of a concert hall, Opera on Tap's music was nothing short of gorgeous. The performance also provided a brief introduction to each piece, including history and plot as well as technical tidbits. ("What does it mean to be a countertenor? Imagine Prince singing 'KISS'," said singer Michael Mohammed before breaking into Handel's "Theodora".)

The next show is on December 15, titled "Social Graces: Opera On Tap Demonstrates How [not to] Behave at the Office Holiday Party". The following shows will be held on January 19, February 16 and March 16 (and rumor has it that a full production of Mozart's Le Nozze di Figaro are in the works for this coming Spring).

See Opera on Tap on December 15 in San Francisco. Find an Opera on Tap near you by visiting their website (www.operaontap.org) and their Facebook page. Performances are donation-based.

Comments Off on Feature: Opera on Tap

December 6th, 2012

Kitka, an all-women's vocal ensemble, will be going into their 33rd season this year with Wintersongs – the group's homage to all facets of winter with traditional music from across the Balkans, Russia, Belarus, Ukraine and Georgia. The concert's program aptly represents the meaning of kitka, which translates to "bouquet" in Bulgarian and Macedonian, embodying the idea of disparate elements coming together to create beauty; this year's repertoire includes songs of celebration from Christian, Jewish, Muslim and even more ancient traditions, like paganism, tapping into the heart of why we as humans gather together and raise our voices against the darkness. Kitka's primal and otherworldly voices take listeners on a strange journey that evokes the dark and bitter cold with songs of despair and mourning, before finally guiding us into the coming dawn with joyful songs of food, family, love and togetherness.

Kitka began in the 1970s in Oakland as an amateur group and has since become an award-winning ensemble with international recognition. The group's music — powerful, intricately ornamented folksongs sung by eight women — has  been featured in films like Braveheart, Jacob's Ladder and Queen of the Damned. They have released eleven critically acclaimed recordings — nine from their own label, Diaphonica.

Executive Director Shira Cion has been with the group for almost 25 years, and Michele Simon returns after a 10-year hiatus to co-direct Wintersongs with Caitlin Tabancay Austin. This particular concert has been performed almost every other year since 2000, and each year they have more songs than they can possibly fit into the program, so each performance provides ample opportunity for new music to shine.

With songs in 12 different languages and seven different venues, Kitka has always been welcoming of people from different backgrounds. Indeed, there has been an overwhelmingly positive response to the diversity of their repertoire. Kitka's audience abroad has been deeply moved by the group's interest and dedication to folksongs, since most traditional music is being absorbed or replaced by American-style pop music. Various ethnic groups have even adopted Kitka as the preservers of their folk music traditions.

"There are many wounds of history because that whole region is a long tale of invasion and occupation," Cion said.

More and more people in Kitka's growing audience have begun to understand the lyrics, and feel renewed pride in their heritage and traditions. More than once they've been thanked by people for reminding them of the richness of their own culture.

"We have Russians who come up and say, 'thank you for singing the Russian songs,' and Bulgarians saying, 'you sound just like a Bulgarian choir.'  Everyone loves what we do, and they like their piece." Simon said.

Kitka has worked directly with folksingers from Georgia, Armenia, Russia, Ukraine, Albania, Croatia, Serbia, Bulgaria and Greece. In the old days, adventurous musicologists and folklorists would smuggle recordings out of villages under Soviet surveillance. Now, Kitka is able to travel freely and — thanks to Facebook and Google Translate — is able to keep in touch with a worldwide network of singers based on a mutual love of song, tradition and community.

"The opportunity to go to the places where the music is from — to breathe the air to see the geography and to meet the people, to hear the language all around you — it brings real depth to Kitka's understanding and performance of the music," Cion said.

One of Cion's favorite songs is "K'irialesa" from Samegrelo in Georgia. The group first learned the song in the Songcatcher style — direct study from a master folksinger — in Georgia. The rain poured that day, and both choirs huddled around tea and pastries while they sang songs to each other in a gorgeous Georgian house in the mountains.

"There's one line in that song that's very sweet," Cion said, "meaning 'may the birds of your dreams flap their wings and take flight, may your grain store houses be full of corn, and may you soon be reunited with relatives that are far away.'"

It seems that the most haunting and enchanting music usually has the simplest message, such as a Yiddish tune "A Gute Vokh" that translates to "Good Week." It intones simple wishes: "may we all have bread to eat and clothes to wear, may we drink wine and celebrate until the dawn."

Kitka exists at the intersection of these simple ideas and the transcendent experience music can offer. All of the singers are native English speakers who have picked up new languages because of their love for music. Just as each region has its own distinct flavor, each language has different musical qualities. Even if you don't speak the language, you find yourself filling in the blanks by making up a new story as you listen. As you begin to understand the lyrics, each new iteration of the same folksong becomes like reading the same picture book with different illustrators.

"I think that's the reason people gather more in the wintertime to sing together," Cion said. "There's a real need for a transcendent experience when it's dark and cold and depressing — when things are down and difficult — I think it's almost a biological need."

No matter what your background, Kitka's Wintersongs is sure to be a beautiful and moving evening.

"As a journey, it requires a little bit of surrender," Cion said. "It takes a bit to get you there, to arrive, but the songs are really incredible and I hope folks will arrive, let go and join us."

See Kitka live this weekend in Oakland on December 7 and San Francisco on December 8. For more information, visit Kitka's website at kitka.org.

Comments Off on Feature: "Wintersongs" Performance by Kitka

November 8th, 2012

Della Heywood would have become a field zoologist had her inner artist not stood up and thrown off the lab coat. Originally from Vancouver, BC, she has studied painting, drawing, etching, printmaking, sculpture and photography. She has lived in Northern California since the 1980s, and once the kids were old enough she moved to the Bay Area, where she created Spectrafix, a non-toxic pastel fixative. The business became an international success, and when it started taking over her apartment, she knew it was time to expand into greater spheres.

The Emerald Tablet — a "creativity salon" in San Francisco that began in 2011 with her partner Lapo Guzzini — is Heywood's newest project, aiming to bridge the gaps between artistic activities. The Emerald Tablet hosts everything from concerts and exhibits to crafts, DIY workshops and science classes — all in one open and welcoming space. Its name references the ancient alchemical text that, to Heywood, best describes the development of a holistic human being. The reference is subtle, yet completely representative of what goes on there.

Heywood hosts regular painting and drawing classes at the Emerald Tablet. Her own work evokes a unique connection between the scientific and creative, drawing on impressionism and the Japonsim movement. My favorite Heywood painting is "Return to the Beloved", portraying a scene of the ocean flowing back to its source.

Heywood hopes to have the Emerald Tablet grow as a community center where there is no separation between science and art, learner and teacher. Art Animal had the pleasure of speaking with Heywood about her inspiration for the Emerald Tablet and her advice for artists who want to start something similar.

Art Animal: How did the Emerald Tablet begin?
Della Heywood: The Emerald Tablet was a gleam in my eye as a way to deal with the issue of having my bedroom closet bursting with bubble wrap and shipping materials. I thought the best way to approach that was to find a place where my friend Lapo and I could merge the business and also teach classes. So we downsized the living situation and upsized the work space.

AA: How did you choose the name the Emerald Tablet?
DH: The Emerald Tablet is probably the most ancient philosophical teaching on the development of the human soul. It encompasses all the endeavors of a completely developed human being.  What we wanted to do was provide a touchstone for human development here that would be both right and left brain — all-encompassing and complete — to aid people in learning and growing. There is a principle in the Emerald Tablet that states, "as above so below, and so below as above." In other words, whatever happens down here on earth will also affect what happens in other spheres; and what happens in higher spheres will affect what happens down here, below, in the human spheres. We wanted to hold that sign up. It works really well to have that balance between cause and effect, between right and left brain.

AA: It's so neat that you offer such a variety of DIY classes that combine science and art; for example, your "How to make your own paint" workshop.
DH: Yes! If the opportunity came by for more DIY, I'd do it here. There haven't been too many "left brain" projects yet. We've had "make your own paint" with Alex Warren from Sinopia. He runs a full-time pigment business. We've had hat making, sewing, manga figure sculpting. We do painting; we do drawing; we even have a documentary filmmaking class.

AA: Have you ever thought of working with the Mothership Hackermoms, a group who has created a similar space?
DH: Yeah, I know of them, but I haven't been in touch with them yet. I'd love to do electronics here.  I've taken a soldering class at Noisebridge, and I'm teaming up with another guy in the East Bay to do some major electronics projects to display here. I can't let the cat out of the bag here, but you could call it "weird science." These will be art installations, psionics and a meeting of science art and metaphysics. To me it's perfectly normal [to combine science and art] but [for] most people it just wigs them out completely.

AA: Tell me more about your fixative and the kinds of chemistry that you incorporate into your paintings.
DH: My scientific background gave me this fearlessness about chemistry and all the rest of it. My paintings have a lot of pastel, watercolor and ink. My business that supports this place is for a spray-on fixative made from milk proteins. It's an antique recipe that I use to make this fixative, and was used by the famous pastel artist Edgar Degas. His technique for holding pastel on was always wondered at by conservators and the like, and thanks to modern spectroscopy, they've discovered that there's casein all over his works.  It's just a natural biopolymer, like what biodegradable bags are made of. When you cure and dry the milk protein it hardens and becomes quite rigid. They used to make buttons out of it back in the day.

AA: How is it extracted?
DH: You just use an acid on the milk and that makes the stuff clot up. Then you take those clots and you dissolve them using a base like borax or ammonia.

AA: Are there other food items that you manipulate chemically to use for painting?
DH: Egg tempera is another. Milk was used by ancient Egyptians to hold their tomb-paintings on, and here we are 9,000 years later and it holds up.

AA: You've hosted an incredibly wide range of performances at The Emerald Tablet, from poetry readings with Jack Hirschman, to a Dao ceremony to Euro-gypsy jazz concerts. How do you find artists to showcase?
DH: I just open my mouth to say "hi," and happen upon these really great artists. I met a composer at the Meridian Gallery [in San Francisco] who was just stacking chairs. As far as the successes I think we've really been able to provide a home for the poets to come and read. During the International Poetry Festival we had hundreds of people come to see readings, with regulars like Aggie Falk and Jack Hirschman.

AA: Have there been any disasters or performers that were really challenging to host?
DH: I can't really think of one that really bombed as such. They've all had success in their own right. One that was really challenging — but also really fun — was a comedy called Alice Down the Rwong Wrabbit Whole. It was challenging because we had to tear down and put up sets; they even had a swimming pool with water in it. We were packing the house on the weekends.

AA: How should someone contact you if they are interested in putting their work on display at the Emerald Tablet?
DH: E-mail me a sample. I think the only artwork I would refuse would be something that just — evokes misery. I love to see something innovative. I feel that the artist's purpose is to bring something new into the world. Some of the work that I really loved was by Sandro Sardella because he's not an artist -— he's a poet. It was very much a visual representation of a poem that just continued to flow out of his hands and onto the paper. There was no attempt to make them formal. The pieces just never sat still; every time you looked at them they were fresh. I love that quality.

AA: Do you have any advice for people who want to open their own gallery, or artists who want to really make a living from it?
DH: Try not to go into debt; otherwise you begin to be driven by the need to make money and that's really a problem when you're trying to live artfully. It's very important to keep the classes low or no cost, so be sure you can cover your expenses first.

I also think it's difficult to open a gallery and have it be only a gallery. It needs to be a multi-purpose space for classes, etc. In the art world, everyone knows that the prices and relative values of things are completely arbitrary. Beautiful, wonderful artists go relatively undiscovered in favor of what's trendy or what someone happened to market very successfully. Everyone paints the same thing because they want to be accepted and they want to sell. Instead, be driven by the wish to create community and culture. Civilization is actually culture, like yogurt. And culture is something that falls into an open dish and takes root there naturally -— like making kombucha.

Be sure to check out upcoming events on the Emerald Tablet's website and Facebook page. If you are interested in volunteering or exhibiting at the Emerald Tablet, e-mail Della Heywood at info@emtab.org. You can also purchase her fixative at Spectrafix.com

Comments Off on Interview with Della Heywood of the Emerald Tablet

November 2nd, 2012

Christen Lien has been alternately called an activist, virtuoso and musical samurai because of her incredible performances on the viola and passion for civic responsibility.

I first saw Lien perform during the Revelations: Myths + Meditations event at the Soundwave ((5)) HUMANITIES festival in San Francisco. Held in the city's Episcopal Church of St. John the Evangelist, Lien got up alone, in the darkness of the church, and began to play. Usually buried and forgotten within classical orchestras, Lien used the low, sonorous sound of the viola to make her her audience smile during pieces like her playful "Sandbox Sessions", or cut to your core as it roared her "Battle Cry". Layer upon layer blended into music so smooth and evocative that listeners may have missed its technical genius; Lien recorded each section live, added guitar effects and finally put the music into a loop machine. The result was the incredible sound of a one-woman orchestra.

The restrained grace and power that Lien displays onstage reflects aspects of her personal life. A champion of social justice, environmentalism and First Amendment rights, Lien celebrates the fearlessness we attain when stepping into personal power. She took the time to talk with Art Animal about the evolving genre of sound art, her musical process and what's next.

Art Animal: I've heard that the Suzuki method of teaching music emphasizes aural learning and is considered to be a more holistic approach. Do you think your training with the Suzuki method set you on the path toward sound art? Do you think it allowed you to grow more creativity as an artist?
Christen Lien: The founder of the method, Shin'ichi Suzuki said, "I want to make good citizens. If a child hears fine music from the day of his birth and learns to play it himself, he develops sensitivity, discipline and endurance. He gets a beautiful heart." I listened to recordings that came with my lesson books and learned not only how the music "should" sound, but also thought about ways that I could make the song more emotionally resonant.

My current process when I compose is very dependent on the ear and the heart. I don't write out music on ledger paper — I don't think, "I want to compose a song in the key of G Minor with a 4/4 time signature and a moderate tempo." Instead I focus on a concept, an emotion, an experience or a circumstance about the human condition, and then experiment. The songs are like living creatures that are born from creating by ear, versus being created through notation and theory. (Though I am trained in music theory – don't skip out on that, kids; it's very important too.)

AA: Tell us about Vol. I: Battle Cry. Is there a story behind each track?
CL: Vol. I: Battle Cry is my first album, and like all of my songs, there are stories to each track. I'm also a fan of concept albums (i.e. Pink Floyd). The concept behind this first album is the emotional process we go through as we step into our "Power," and creating a musical score to that journey. By "Power" I don't mean the kind we acquire through time and experience, but the kind we are born with and have to step into through our own learning, maturation and sense of self.

The kind of "Power" I am exploring in my album, Battle Cry, is a very personal kind that we understand through a long journey or a rite of passage. It isn't easy to embrace; it requires a lot of courage and honesty. As I was writing this album, I imagined a warrior treading through a hero's journey of sorts, finding personal challenges that he or she must overcome, asking for help before the battle, surviving the fight and reflecting before the long journey home.

AA: Will your next album be a continuation of the same story?
CL: The way to look at my body of work in a long term perspective is that each "Volume" will deal with a different topic and challenge within the human condition. Vol. II will of course tell the tale of a hero's journey, but it's not a literal continuation of Battle Cry. It deals with a different topic — man's relationship to hope, fear and expectation. It's also a concept album about a character, but this character is rooted in mythology and their journey will be more complex than my last record. The next album is also a multi-media project, with visual and literary components that will help tell the story. I'm writing the literary components myself, but for the visual components I am collaborating with other artists.

AA: Do you think there's a difference between your persona onstage and your everyday self?
CL: The answer to this question will probably be more interesting if you ask my closest friends; but I feel pretty aligned to the stage persona I share with my fans and community. My music and stage performance has a lot of movement, a lot of personal emotions and high drama. But, hey, look at the context: I grew up in a house that had multiple religions and both Eastern and Western philosophies. I currently train in martial arts and yoga, am trained in gymnastics and extreme sports like skiing and rock climbing, so I love the physicality of life and the wisdom of body intelligence. I often travel deeply to places that we think are scary, but aren't as dark as our imaginations think they are (i.e. the Amazon rainforest or Mexico)… is all of this part of my stage persona and performance? I hope so; I want to bring my experience to the table when I perform music.

AA: You're a staunch supporter of free speech and open creativity. Tell me a little bit about your activism.
CL: "Activism" has always been a strange word to me, and it's because I've been called that many times, but never intended to be an activist. I've just found myself in situations where I had to come to something's defense, and it was my civic duty and sense of integrity that led me to action.

In regards to free speech, I took a job as the Executive Director of the Ann Arbor Film Festival in 2005, the oldest festival of its kind that showcased experimental and ground-breaking film from all over the world. Just a few months after I took the gig, I found out that the AAFF was accused of showing pornography. Certain state legislators wanted to use the festival to take a stand against pornography in order to win over their conservative base. The films didn't even have sexual content. For example, the film "America's Biggest Dick" by Bryan Boyce was actually a film about Dick Cheney. The state of Michigan then revoked tens of thousands of dollars in state funding that the 44-year-old institution was dependent on.

The festival teamed up with the ACLU and the National Coalition Against Censorship, and took this to the court. In the end, the state of Michigan, admitting their guilt, settled out of court and changed the laws for all artists. Those state legislators who caused the problems in the first place? None of them were re-elected into the state congress, all of them lost their political power. In the end, it was a long, strange trip but an incredible victory.

Was this activism? Yes, but I see it more as civic duty. The "man" was reigning in on the creative diversity and voice of our culture, and I had to stop it while I could. We all have the responsibility to defend what is right and protect what we value most in our culture.

AA: It didn't stop there, though; you were recently involved in this year's Democratic National Convention. What did you do for them and how did you gain that position?
CL: I was the Speech Editor in the primary rehearsal room at the 2012 DNC. We work with the media coaches, speech writers and the teleprompting team. Whenever there was a change to the text that fed the teleprompter, I made those changes. And changes and edits happen all the time, right up to showtime.

I worked with Vice President Joe Biden and Dr. Jill Biden, Sen. John Kerry, Caroline Kennedy, the keynote Mayor Julian Castro, Sen. Harry Reid, Rep. Nancy Pelosi, Sandra Fluke, Gov. Martin O'Malley, Gov. John Hickenlooper, Mayor Rahm Emmanuel, Mayor Antonio Villaraigosa and civil rights legend Rep. John Lewis…The list goes on and on. A tremendous amount of nonstop focus is required.

AA: Tell me about your martial arts experience. How did you first become interested in practicing martial arts?
CL: I love martial arts. I'm a junkie, and train several times a week in Jeet Kune Do (Bruce Lee's mixed martial art), Kali/Escrima/Arnis (Filipino weaponry), Buka Jalan Silat and Western Boxing. Training definitely serves my music and professional career. I became interested through someone very close to me, but it was not something I had to be convinced to do. It was something that I always knew I would do; it was just a matter of time for me to show up for the training.

Oh, and here is a fun secret that I hardly share, too: the katana that you see on the cover of my album, Vol. I: Battle Cry, was my parting gift when I stepped down from the Ann Arbor Film Festival. The Board of Directors gave me that sword and engraved it with the words "Truth, Creativity and Integrity" — three values that I will fight for, to the death. The gift was perfection; they knew me well.

AA: Martial arts have a way of permeating one's life; developing them spiritually as well as physically. How has it influenced you and your music?
CL: The most obvious influence that others have noticed is that my stage presence is a bit stronger. Not just in terms of confidence, but my body is stronger and more flexible. When I perform, I move — a lot. Always have since I was a kid. Since my core is now stronger, I can bend and dip deeply, move either with more speed or move very slowly with strength. The physical dance between me and the music has reached a new level.

As for how it affects my music career in other ways, training has made me better with negotiations, confrontations and standing up for what's best for me and my art. It also keeps me disciplined and helps me stay in the present moment. When it comes to composition, I have a few songs where I attempted to write the sounds and patterns of a fight. We'll see if you guys like that song when it is released.

AA: What's the harshest piece of criticism that you've received, but that helped you to grow as an artist?
CL: I would never call this harsh because it was delivered to me out of support and confidence in my work; a very wise and successful man once told me that the smartest thing I could do is walk through the world and speak to people with the same level of confidence that I have when I am up in front of a crowd with a viola in my hand. If I let my light shine with the same confidence when I talk to people — if I acknowledge the value I bring to people's lives through my creative work, and trust myself — then anything will be possible.

That was the moment I forgave myself for my insecurities, honored the dignity of my experience and knowledge and began operating from a deeper sense of self. It's amazing when people rock your core that deeply — sheerly because they believe.

Learn more about Christen Lien on her website www.ItsNotAViolin.com.

October 18th, 2012

In the beginning, there is a dying world. The brave explorers who left their home to seek a new one crash-land on The World of Two Moons: the wrong planet. The early humans drive the elves from their home, setting the stage for eons of conflict, fear, and hatred. The immortal and semi-immortal elves live their lives parallel to the course of human history; from the pre-historic to tribal, medieval, industrial and distant future. The story follows Cutter, chief of the Wolfrider tribe, and his quest to reunite the surviving elves that were scattered all those years ago.

Welcome to the world of Elfquest, a tale begun in 1977 by writers Wendy and Richard Pini, and that has since gained thousands of fans across the world. At long last, the newest edition to the series, "The Final Quest," has just launched on Boing Boing.

Boing Boing, one of the most read blogs in the US, turned out to be the perfect spot from which to launch Elfquest's latest story arc. When the Pinis saw that a mention on Boing Boing helped generate traffic on Elfquest's Facebook page, they decided to go for it and release "The Final Quest" as a weekly online publication. It turns out that several Boing Boing staff members were long-time fans, including Managing Editor Rob Beschizza.

"The cross-pollination between our respective audiences is a lot of fun, too," Beschizza said. "Completely coincidentally, one of our contributors turned in a feature about Elfquest's mythological echoes just when we announced it was coming to BB."

Over the years, other artists and writers have worked with the Pinis on spinoff series, expanding the canon with tales of the elves' ancestors and quests of future generations. These stories introduced us to different tribes and took us to the grasslands, distant jungles, the frozen north and even deep under water. In "The Final Quest," the elves have rediscovered their history, and are able to re-activate the palace that brought them to the World of Two Moons. However, their way of life may not be able to reconcile with their alien origins. Elves of all tribes may be forced to ask themselves, "Where do we really belong?"

"The feral, omnisexual, hallucinogen-guzzling protagonists aren't Tolkien-derived clichés," Beschizza said, "but a freakish medley of European lore, Native American myth and hippy free love. And yet it isn't at all edgy."

Elfquest was the first continuous heroic fantasy series that was created, written and illustrated by a woman. Her husband Richard joined the project in 1979 as the publisher, editor, marketer and co-creator. Each and every character has an important role that is defined by their actions—not by their gender. Healers, hunters, guardians, villains—they all have their own demons to battle and fears to overcome. Winnowill—in my opinion, one of the greatest adversaries in all literature—exemplifies cruelty, tyranny, and psychic invasion. Wendy's world has no room for boring "Mary-Sue" characters, a detail that appeals to the audience that mainstream comics left behind.

Elfquest has always had a very accepting message. Certain issues that come up in our world disappear because the elves have no system for stereotyping each other. The only crime among the elves is trying to take someone else's choices away.

"Yes, of course there are elves in relationships in Elfquest that could be classified as gay," Wendy said, "but in their culture and language they don't have those labels."

However, the series has received its share of flak; sensuality and sexuality are as integral to the story as conflict and violence, though the fan base is generally in a younger age range. Many fans (including myself) got hooked between the ages of 8 and 12, and material such as "The Infamous Orgy Scene" in issue #17 caused some controversy. However, an 11-year old boy's letter stood out amidst the criticism.

"He said, simply, in response to the entirety of the scene, 'Thank you for not talking down to me,'" Richard said. "That letter made our month."

That uncompromising vision is even more evident in Wendy's tragic romance, "Masque of the Red Death," which she is hoping to turn into a musical. But when Wendy heard back from potential producers they told her that the musical would be produced so long as leading lovers Anton and Steffan became Anton and Steffanie.

"Hell to the no," remarked Wendy at a panel at San Diego Comic-Con 2012. "It's Anton and Steffan or we don't do business."

"Masque" was originally created to be erotica, and many scenes are far more graphic than Elfquest ever was. However, Wendy continues to push the boundaries of what is and isn't acceptable. For example, she posted a series of tasteful pinups of her characters, including the androgynous hermaphrodite Bunchh, on her Facebook wall. Because Bunchh's nipples were interpreted to be female, Wendy's Facebook was locked down.

Wendy's fans are as steadfast as she is, and attempts like this to censor her or her work have been met with outrage on Facebook and websites like LezGetReal, BuzzPatrol and The Daily Beast.

This kind of support has re-enforced the Pinis determination to stick to their artistic guns even when opportunities to expand to the silver screen come knocking. In the past, the Pinis have rejected attempts by producers to change the story to suit mainstream audiences. You can bet that if Elfquest ever becomes a movie, it will be on the Pinis' terms.

"When it comes to characters, or motivations, or the spirit of the thing," Richard said, "someone (a studio, a director, a scriptwriter) either gets it, or they don't."

Elfquest has endured because of the truthful and heartfelt story that rides alongside its lush artwork. What Wendy said in an interview with The Sequential Tart in 2001 remains true today: "Even people who think they're too cool and above-it-all are secretly starving for that. Stories about relationship complications, heroism, sacrifice and family loyalty may not be considered hip or edgy, but they make a lasting impression and never go out of style."

For a brief introduction to Elfquest, check out this promo for the first four graphic novels: Wolfrider Intro. All 6000+ pages of the series, its offshoots and movie storyboards are available to read, for free, on Elfquest.com.

Comments Off on Elfquest Returns for "The Final Quest"

October 11th, 2012

I've loved Garbage since I was ten years old. Back in 1995, my elder sister brought their self-titled debut album home from a concert. I was immediately hooked.

"She could only sing for a half hour when I saw her because of the nodes in her throat," my sister gushed, "but I was so happy for those 30 minutes."

On October 1, Garbage played at the Warfield theater in San Francisco as part of their most recent tour. More than ever, this tour is about pleasing the fans. Garbage has split and reunited many times before, including their indefinite hiatus in 2003 and again in 2007. However, through it all, they have retained the same irresistible hungriness that called to all of us outcast listeners long ago, each song on their first two albums clawing through you with renewed fervor. Scottish singer Shirley Manson and American musicians Duke Erikson, Steve Marker and Butch Vigand are back like never before. On October 1, Garbage and their fans came together again, and we became "Not Your Kind Of People."

Though the new album received a lukewarm reception (given a C+ by the A.V. Club  and a 6.4 by Pitchfork), the tour was about re-connecting with fans rather than focusing on commercial success. In an interview for Ponystep, Manson seemed overwhelmed by the love she received at her first comeback gig.

"The fans sang every single fucking word," she said. "We couldn't believe it! We were like, 'This has never happened to us before.'"

The Warfield was half-empty when the opening band "Screaming Females" took to the stage. But despite the lack of audience, I was utterly blown away by the primal energy and raw talent of all three band members; lead singer and guitarist Marissa Paternoster looked tiny and sweet in her little black dress with white polka dots — until she transformed into a roaring, guitar-thrashing monster that had me bouncing and head banging in my seat (especially during "Doom 84"). But this was only a taste of things to come.

Screaming Females left the stage, fans packed in, the lights dropped and there they were — Garbage — launching into "Supervixen," the first track off their debut album. Though fans didn't dance much, they swayed while Manson vamped. Everyone sang. Beloved classics like "I Think I'm Paranoid," "Queer," "Stupid Girl" and "#1 Crush" rocked through the crowd. Lesser-known songs like "Cherry Lips (Go Baby Go!)" were made brand new and sexier than ever, especially when the band slowed down under deep blue lights for "I'm Only Happy When It Rains."

Like former lovers rekindling a romance, Garbage reminded us why we fell in love with them in the first place, sticking to their best known material. The only new tracks that were performed were "Blood For Poppies" and "Battle In Me." Manson joked with the audience that "Battle In Me" had been designated as her "cougar song" when in fact the lyrics were written about the extreme opposite: losing her virginity.

"Losing my virginity, by the way," Manson added, "was just unpleasant. What a disappointment."

She laughed as the fans screamed.

"I can't believe I'm talking about this on stage," she said. "Just calm down, everyone! It'll be all right."

Manson's whispers and growls on her albums are nothing compared to her gorgeous, commanding voice in real life. Even from my seat in the back of the theater, I felt as though I personally knew her through her performance. At one point, Manson began opening up about her mother, revealing that the Warfield was the last place her mother saw the band perform before she passed away.

"There are a lot of ghosts here in this room," she said.

She was right. Garbage's utter sincerity and familiarity called up a long-ago time when these same songs were still playing on the radio. There was something unbelievably reassuring in the fact that Garbage's music can still reach out and resonate with us after all these years.

"I knew you were mine for the taking," she sang… And we were.

You can follow Garbage on their website, Facebook and Twitter. Be sure to pick up their new album, Not Your Kind Of People.

Photo courtesy of Pierre Le Leannec

Comments Off on Garbage Returns to the Stage

October 4th, 2012

Every kid dreams of being part of the rock star world, but not many are able to actually make their dream into a reality. As the promotional designer for the Metal Female Voices Festival, Belgian artist Helcanen is one of the lucky few.

Since childhood, Helcanen has loved to draw. Combining her personal and professional passions — metal and art — she has developed a unique style that is influenced by Japanese pop-art, Renaissance painting and Gothic themes. No matter the medium (and Helcanen uses a variety), her images masterfully capture your eye and make you wonder what will happen next.

Whether working with charcoal or acrylics, her dark, enigmatic characters ooze power and sensuality. Her designs are reminiscent of fantasy art legend Luis Royo, who made his mark by painting intensely sensual warrior women. A personal favorite of hers is Brian Froud, who worked with Jim Henson as a designer for Dark Crystal and Labyrinth.

With the ability to incorporate such a wide range of styles, her art has found its way onto metal posters and album covers, as well as t-shirt design and comics.

"I've always had lots of admiration for these artists, and I can't hide that manga has had a lot of influence on my art," Helcanen said, "but honestly, I try to stay away from big artists' influence so I can avoid copying their technique. I try to keep my own personality."

In addition to manga, Helcanen also draws from the Visual Kei music movement for inspiration. Visual Kei fashion popped up in the 80s, combining punk and metal to create something entirely new: flamboyant Venetian costumes and over-the-top hair and makeup that emphasize androgyny.

"I love that [Visual Kei fashion artists] combine metal with other styles," Helcanen said. "They give me a whole different kind of energy. They always have this particular look that I like — it's a combination of traditional Japanese art, manga, and the western Renaissance."

Being able to adapt and fit new demand has been essential in the development of her career. 2Wild4 Productions — a management and production company in Belgium for female-fronted bands — hired Helcanen as their production artist when they saw portraits of the women she had drawn. Before that time, she hadn't drawn portraits since she was a teenager.

"People reacted very well, so I made more and more of them," Helcanen said.

She's sold portraits of popular singers such as Simone Simons of Epica, Tarja Turunen and Liv Kristine of Leaves' Eyes. Her art has also been incorporated into album jackets and CD designs for bands like Anwynn and Skeptical Minds.

"There are two artists I like to work with the most," Helcanen said. "For painting and design it's singer, model and perfumer Aziza Poggi from the USA.  We've worked together for many years now even though we've never met in person. On each new project, she always contacts me because we have the same artistic view. For photography, I love working with Karolina Pacan from the Belgian band Skeptical Minds. She's a great model."

As her contacts and experience increased, Helcanen also took on photography and has demonstrated incredible talent for learning on the fly.

"When you're shooting a performance, you can't really prepare anything beforehand," Helcanen said. "You usually don't have time. You just set up the camera's options a few minutes before the show starts."

Helcanen got in on the ground floor of the Metal Female Voices Fest at only 26 years old, and has seen her work grow and expand since that time. However, like all artists she has to cope with criticism.

"Maybe the critics are jealous people who can't do what they want in life," Helcanen said. "I try to not focus on it. These people generally aren't objective."

If she had to choose one quality that would help an artist's career, it would be patience. Even if you're taking on projects you don't like, patience will sustain you through the development of your career. Sometimes it even pays off and, at least in Helcanen's case, you get to meet some rock stars.

"The one band I've always wanted to work with is Versailles [a Japanese visual-kei band]," she said. "I finally met them this summer! It was really brief, and I only had a few seconds to give my promotion, but Versailles is probably the band I would like to work with most of all for design or a photo shoot."

Helcanen is a shining example of living the dream, having found a way into the rock star world without ever picking up an instrument, moving within the peripheral business of promotion and design, photography and social media. She is one of those exceptional people who seems to be doing exactly what she was born to do, no matter what the roadblocks she encounters along the way. The key to her success? Following the same advice she gives to anyone else on this path: "You just have to complete it, step by step."

Helcanen is this year's winner of the Eve's Apple Art Contest. You can follow her on Facebook and on her web site.

Comments Off on From Manga to Metal: The Fantasy Art of Helcanen

September 27th, 2012

Three months ago, San Franciscans patiently lined up outside of the California Academy of Arts and Sciences to score entry into one of the most unusual after-hours NightLife events of the year: the opening night of the Soundwave ((5)) HUMANITIES Festival. This summer marked the fifth season of Soundwave, MEDIATE Art Group's innovative art and music biennial that launches artistic events in unusual places around the city. Each season, MEDIATE chooses a theme that is then investigated through the works of diverse artists and musicians. This year's theme is all about exploring the connection between sound and the human condition, and how it relates to 2012, the Mayan calendar and the future of humanity in the face of rapidly changing technology. The festival features a number of talented female artists from the Bay Area and around the world.

"Sound art is experiential, and can spark emotions that connect people through deeply meaningful experiences," said Lauren Sapala, Soundwave's administrative manager. "We also hope people will come away from our events asking questions. What is art? What is music? What other possibilities are out there that we haven't yet explored?"

This in a nutshell is what Soundwave is all about: seeking out unexplored artistic territory, breaking boundaries and opening new doors of artistic possibility. The very concept behind sound art is to blend the creative with the scientific by juxtaposing traditional instruments with audio-visual effects.

"The first step is to explore the sounds instruments can make outside of their 'traditional' context," said composer Polly Moller, whose piece Genesis was performed on September 14 at the Intersection for the Arts. "Many players and composers laid this groundwork in the 20th century, learning about sounds made in jazz and folk music, and doing their own experiments to find all the sounds that could be made on any given instrument. These explorations are still going on."

Indeed, quite a few of the Soundwave performers step outside of "traditional" contexts, utilizing audience interaction and unusual venues — like churches, World War II bunkers and moving buses — to evolve their art.

"The artists who are chosen for our events are highly adaptable, creative and willing to try something totally new," Sapala said.

Soundwave is one of dozens of niche-art festivals where artists come to refine their talent, find an audience, and become part of a thriving community. Many artists return to Soundwave year after year in order to challenge themselves, placing their work in the hands of the audience and each individual's experience.

"It's not like a painting where you can step back and take a look at it," said Diana Burgoyne, whose performance installation featured suspended masks with which audience members can interact. "The only way you can get a sense of what the piece is about is by actually putting it out into the venue so people can hear and interact with it."

Light-activation technology to trigger sound was a popular tool this year to spark audience participation. Shane Myrbeck and Emily Shisko of The Cellar Ensemble created an instrument called "Oracle" that was made up of acrylic pillars and sensors cleverly integrated into wire trees. When you put your hand between a sensor and its light source, it triggered a sound, urging audience members to consider our physical connections to our minds. Like many of the other projects in Soundwave, the "Oracle" has opened up new possibilities for blending sound art with performance art.

"[The Festival] provides an opportunity for motivation," said Kadet Kuhne, an award-winning filmmaker and media artist from the Bay Area. "You know you're going to have a great audience, so it makes me more motivated to make a high caliber of work. It creates a great community and really inspires new work."

Indeed, sound art isn't something that a person can walk into a museum and stare at; rather, sound art is something you experience.

Catch the last few days of the Soundwave Festival this weekend in San Francisco! Visit www.projectsoundwave.com to find out more. If you are interested in participating or volunteering next year, keep an eye on the MEDIATE Art Group's website: www.me-di-ate.net.

September 19th, 2012

Heavy metal. Speed metal. Death metal. No matter what the style, metal music calls up images of ruthless drums, screaming guitar and roaring voices. From the union of gothic and symphonic metal comes a new kind of music, setting the power and frenzy of metal against the elegance of an operatic soprano. This gorgeous alchemy of power and beauty has led to a new genre with its own fan base: female-fronted metal. This year, fans from around the world will once again come together for the 10th anniversary of the Metal Female Voices Fest (FMVF) at the Oktoberhallen in Weize, Belgium from October 20-21.

Some of my personal favorites, including Lacuna Coil, Battlelore and Visions of Atlantis have played at MFVF in the past. To see all these kick-ass women in one place, fans fly in from all over Europe, the US, South America, Australia, China, Japan and even Africa. It's held in October on purpose, giving fans one last thing to look forward to after the summer festival season is over.

I spoke with Val (surnames omitted), one of the MFVF's promotion and communications staff members, to learn more about how this fabulous event came to be.

"It was a risk," Val said. "We were trying to build something new in the metal scene. We didn't expect it would have so much success from the very beginning."

She went on to explain that over the years, more and more female-fronted bands had appeared on the scene, and a growing group of fans began to follow that sub-genre. Numerous and distinct enough that each band has earned its own place in the world of metal, the festival serves as a confirmation that powerful women with powerful voices do have a place in this predominantly male music scene.

"We're so proud to have built this festival with our own hands and made it grow year after year," Val said. "The Fest is self-financed, with no subsidiaries or sponsors to help it."

When I asked her about challenges, they were the same as any other music festival: the bands are different every year; sometimes traffic is an issue because the schedule is very tight; and the staff worries about whether or not they'll get enough people to attend the following year because the festival relies entirely on ticket and merchandise sales for funding.

But due to the festival's rise in popularity, it has also begun to face more positive challenges. For example, co-founder and promoter Phil (surname omitted by request) has a lot of trouble deciding who to keep and who to cut.

"The selections are getting more and more difficult as we receive tons of CDs each year," Phil said. "We take the time to listen to each band, but we can't, unfortunately, take them all."

The festival is still open to new artists, however.

"Sometimes fairly new bands catch our attention and we give them a chance to perform," Phil said. "Each year you're guaranteed to discover newcomers."

The number one favorite band of the staff? Dutch band Epica, which, according to Val, the festival was basically built around. And for good reason: Epica's front woman is the gorgeous, flaming red-haired Simone Simons, whose haunting voice will send electric tingles down your spine.

"Epica is very popular in that part of the world, and the fans always request them," Val said. "You could say that Epica was partially how the festival began in 2002, so there will always be a special place for them at the festival."

In addition to Epica, other big names that will be at MFVF this year include Trail of Tears and Diabulus in Musica.

These bands span musical sub-genres, from heavy metal and thrash metal to gothic, neo and folk metal. The only common thread is a woman's voice rising above it all — and the utter devotion of their fans.

For despite troubles that similar festivals have had, MFVF is only gaining momentum. Groups like Leaves Eyes, Skeptical Minds, Delain, Autumn and Xandria come back year after year to find a devoted fan base in the wake of personal hardships and scandals. For example, in 2003 Nightwish performed with Tarja Turunen as their lead singer. Two years later, she had a rough and very public separation from Nightwish, but returned in 2008 and 2009 as a solo artist and even won the "Best & Beautiful Voice" award that year.

"Most of the bands that come want to come back every year because they get so much love from the fans," Val said.

MFVF's success could also be due to its effort to keep attendees happy, offering plenty of opportunity for fans to interact through online forums, contests and voting for their favorite bands. Awards are given out for the best album, best video, best MFVF performance and best promo artwork. There are even opportunities for up-and-coming artists and professionals to get involved, such as volunteering for Orpheus/HDloc to film the festival or to enter your own in the fan-video competition.

Truly, the festival's heart (and growth) lies in the vibrant communities that it continues to create. This year, MFVF will cultivate a new community with Eve's Apple, an international gathering of professional, female singers. At the core of Eve's Apple is a desire to bring together and promote women's work in the music world, support new female-fronted bands and offer advice for navigating the industry. Fifteen of their members will perform as duos and trios in a never-before-seen acoustic performance before the festival begins on October 19th.

Sadly for those of us living across the Atlantic, festivals like MFVF in the US are sorely lacking despite female metal's popularity abroad. From 2007-2009, Flight of the Valkyries brought female-fronted bands together in St. Paul, Minn., and then relocated to Baltimore, Md. for their performances in 2010-2011. Not much else on the scale of MFVF has happened.

But fear not, for in the event you can't make it out to Belgium this year, several amazing female-fronted bands are coming to San Francisco and other cities in the US. Watch out for Garbage and Nightwish, (with opening by Kamelot) in September and October. Epica will also be touring the US in October and November.

For more information about the festival, visit the Metal Female Voices Fest website at www.metalfemalevoicesfest.be or watch the Youtube Trailer. Fans can find news and updates on their favorite singers by visiting web sites like www.femalemetal.com and www.ravenheartmusic.com.

Comments Off on Metal Female Voices Fest's 10th Anniversary

September 12th, 2012

Theater season is in full swing this fall as the Fringe Festival returns to San Francisco for its twenty-first year. The festival began in Scotland in the 1940s and has been going strong on the international stage, showcasing lesser-known theater in all its scathing, hilarious and outlandish glory. Here in San Francisco, it is hosted by Christina Augello and the EXIT Theater.

Augello is a performance powerhouse as well as the founder and artistic director of the EXIT Theater. "I love acting and the magic of creativity, especially in the theater.  I grew up surrounded by theater and my job in theater allows me so many different opportunities. I'm very proud of EXIT's commitment to developing the artist."

The EXIT Theater demonstrates this commitment twice a year through the Fringe Festival in autumn and DIVAFest in the spring.

"That's one of the best perks of working in the smaller Indie Theater culture," Augello said, "the freedom to experiment, to discover work that is new and unique. Many of the artists who have worked with us because of this philosophy have become important to the theatrical landscape."

She established the EXIT Theater in 1983, and show business is still going strong despite the budget cuts to artistic venues.

"In the ecology of the theater world, small venues are perceived as being at the bottom," said Augello in a 2008 article for the SF Weekly.  "Like most bottom feeders, whether it's sunny or stormy up top we just keep swimming along."

When I spoke to her this past week, she talked about some of the challenges she encounters.

Augello takes risks not just with the Fringe Festival and DIVA Fest, but also with local independent shows.

"At times people's disrespect for our open access policy — i.e. non-curated — has made me uncomfortable," Augello said, "but I love supporting artists and the unexpected treasures that can be discovered by keeping the door open."

"It's very demanding of your time and your energy and not always very lucrative," Augello added, "but I believe in the magic of the imagination and working in theater has given me a way to revel and grow in its power."

That scrappy spirit is what the Fringe Festival is all about.

The Festival offers a fantastic experience for both theater junkies and people ready for their first show.

"The arts are a creative force that infuses life into ideas and emotions allowing our imaginations to flourish," said Augello in an interview for the National Endowment for the Arts. "I think this energy is necessary to balance the destructive forces that humanity struggles with."

Despite the challenges she encourages men and women to pursue a life in the theater. Even if you're too shy to get on stage, there is a place for everyone in this industry.

"Indie Theater by its very nature depends on volunteers," Augello said. "Most of the artists creating it are volunteering their time and always need other expertise to keep things going."

Most shows are $10 or less at the door. With forty shows to choose from, you're guaranteed to see something amazing.

To whet your appetite, check out this list below for shows in which women play a major role as directors or producers:

Dance/Performance Art
L'extimite

Ensemble Comedy
Sugar High: A Brechtian B*tch Slap

Ensemble Drama
Cantata #40

Solo Comedy
To Be Merry
Crazy Town
My Mobster
Cheesecake & Demerol

Solo Drama
Whatever Happened to Sarah Jane?
Ze Ren
Jesus, Do You Love Me?
Velma – a tribute to a mother-head-of-her-time by her son

Political
Calling America: Don't Hang Up
Emergency Phone!

Musical/Music
Legacy of the Tiger Mother
Weightless  (Rock Opera – Kate Kilbane and the Cellar Doors)

The EXIT Theaterplex is located at 156 Eddy Street, and around the corner at 277 Taylor Street in downtown San Francisco. Check out the San Francisco Fringe Festival 2012 September 5th through September 16th.

August 29th, 2012

Cindy Sherman is a one-woman show. She is not only a photographer, but also her own model, make-up artist, hair-stylist, wardrobe manager and post-production artist. Currently, her 35-year retrospective is on display at the San Francisco Museum of Modern Art. Sherman's photos each tell their own story through her expression, composition and tiny details you have to really look for.

I had the pleasure of walking through the exhibit with docent Sandy Hunt. She chose this exhibit because it's challenging for the viewer. For though Sherman is always the model, she is never the subject. The most common themes Sherman returns to are identity, the manufactured image and how easy it is to see the cracks in the façade.

"All of her work is untitled, so the viewer can let their imagination run wild," Hunt said.

In 1977, Sherman exhibited "Untitled Film Stills," a series of 69 black-and-white prints of the full spectrum of women—from B-movie heroines to bored housewives. Hunt explained that they were meant to look like cheap throw-away shots for 50s film publicity and each image puts you in the middle of these imaginary movies. When Sherman was fresh out of college, the New York MoMA bought the entire series. Sherman's career had begun.

The narrative element of Sherman's work is her trademark and she accomplishes it with the addition of little details. Her "Hollywood to the Hamptons" series features portraits or head-shots like the ones you'd see in JC Penny: they all show different female characters trying to appear tough, beautiful or youthful, but in many cases they miss the mark. The series demonstrates how women in photographs seem to constantly try to sell themselves without quite managing to convince the observer.

Helene Winer, owner of Metro Pictures Gallery, sees these portraits as imposing, vain, and confrontational—completely different from the coy figures in the film stills.

"There's something that these women really have at stake," said Winer in a video interview on the SF MoMA website. "These are people and you are standing there inspecting them…They have a lot of secrets they hold."

The stories in her high-society portraits are much the same. Red-rimmed eyes, dyed hair, plastic surgery and cheap plastic accessories highlight the falseness of the upper-class character she portrays. Pointedly, these shots were taken in 2008, just before the economic collapse.

"The women in this body of work in many ways are tragic," said Eva Respini in her SF MoMA interview.  "Because they're presented in larger-than-life style you can really see every detail.  It speaks to this contemporary way of being, and the fact that photography is very complicit in the way in which identity is manufactured today".

As with the "Hollywood to Hamptons" series, Sherman's work showcases the loss youth in the simultaneous need to cling to beauty while the masks we wear easily fall apart.

Though she has been criticized for being mean-spirited, Sherman never had that intention. She was always playing with her subject matter. By making herself the model, and highlighting flaws and imperfections, she demonstrates her sympathy for the women who feel the need to project a sexier, stronger image. By showcasing her characters' vulnerability, Sherman shines light on our own.

Her 1980s "Centerfolds" series was commissioned by Art Form Magazine. Sherman shot herself as twelve different girls—as though for a Playboy calendar—in vulnerable or pensive states. They were designed to make the audience uncomfortable and voyeuristic. I myself felt like an intruder, watching a young girl worry over some internal struggle.

At the end of it all, Hunt quoted Diane Arbus, saying, "Everybody has that thing where they need to look one way, but they come out looking another way, and that's what people observe. You see someone on the street and essentially what you notice about them is the flaw."

However, this is exactly where Cindy Sherman's true talent lies: making flaws the stars of the show.

Cindy Sherman's 35-year retrospective will be on display at the San Francisco Musuem of Modern Art until October 8th, 2012.