Art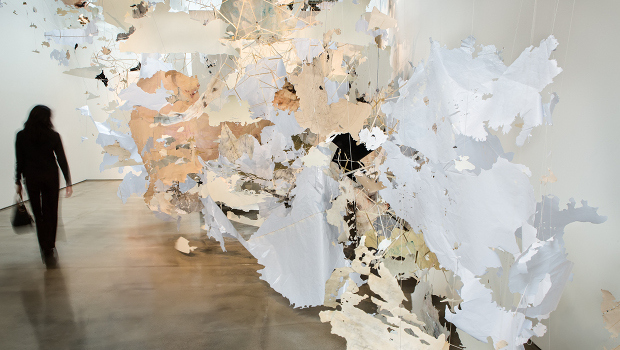 Published on March 20th, 2013 | by Elizabeth Coleman
0
Val Britton's Language of Maps
Since the beginning, humankind has had an unquenchable thirst for exploring the unknown, orienting their discoveries by drawing maps. One Bay Area artist, Val Britton, uses both tangible and imaginary landscapes to explore our desire for imposing order in the chaos of space.
Now showing at the San Jose Institue of Contemporary Art, Britton's Intimate Immensity is a mixed-media installation that uses the language of maps to depict physical landscapes and psychological spaces.
For Britton, art is a method for navigating the terrain of memory and imagination. Heavily influenced by her personal longing to connect with her deceased father, a cross-country truck driver, she combines her own abstraction of maps with routes he used to drive across the United States. The result is a meticulously crafted collection of works with a complex array of geometric spider webs.
Many of Britton's pieces have a moody element, as though dark thoughts were lurking in the recesses of Britton's consciousness while she created them. The colors used are rich and earthy, using metallic gray, rose and azure to highlight backgrounds and blank space. Trajectories wobble like roots or intertwined vines.
Britton's most vivid piece, Celestial Wanderings, features brightly colored nebulas and star clusters. I was reminded of humankind's insignificance in the vast, empty space of the cosmos and our attempt to carve out a small sliver of meaning by naming stars and galaxies.
The exhibit's site-specific installation, The Continental Interior, consists of layered landmasses and exploding cutouts of atlases that hang from the ceiling like a giant mobile. Playing with depth and layering, Britton effectively takes maps out of their normal, two-dimensional plane.The installation is a dizzying array of tangled shapes, causing such a distorted sense of perception that I had to take a step back to reevaluate my sense of space.
After viewing the exhibit, I felt like I had a rare glimpse into a map of Britton's mind, imagination and memory. Hauntingly beautiful, the exhibit left me with the impression that Britton has not gained solid closure to the past, reaffirming humankind's perpetual search for meaning.
See Val Britton's exhibit at the San Jose Institute of Contemporary Art until May 18. For more information, visit www.sjica.org.