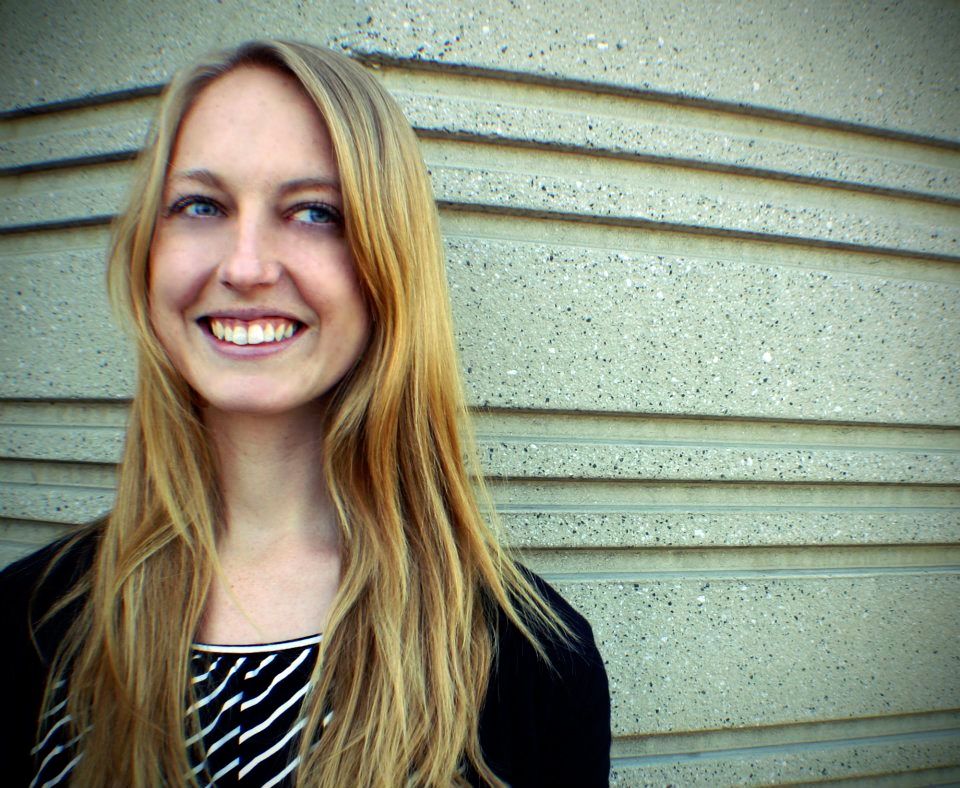 Name: Alison
Bio: A 20-something Colorado native, Alison Kjeldgaard is an avid fantasy fiction reader and lover of tango. She graduated from Occidental College with two journalism internships under her belt, an English Literature degree, and a national economic crisis. Despite this, Alison has delved into the writerly world (of little to no compensation) and taken every chance she can to travel. So far, she has adventured across Western Europe, Slovakia, Hungary, Romania, Costa Rica, and Argentina. Her work has been published in the Glendale News Press, Burbank Leader, GALO Magazine, OffMetro.com, We Love Cult, and Pork & Mead. Most recently, Alison road tripped to San Francisco to relocate permanently. She has already fallen for its eclectic art scene and beauteous, foggy nature.
Posts by Alison:
March 2nd, 2015

My wandering eyes find
You- sleeping shape in moonlight-
While wind whispers in the night.
You- simple silhouetted lines-
Breathing evenly in dream time-
Past worlds collide in my mind.

In the dark he kissed her,
Swaying shadows in the breeze-
Moving with summer aspen leaves-
In moonlight no one missed her.
With crinkled eyes he kissed her.

Happily she sighs, lies
Sprawling on the glassy grass,
Thinking of the just passed past-
Of mumbled "hi's" and "how time flies,"
Of drawn-out dolorous goodbyes…

Exhaled cigar smoke,
A hazy, visible sigh,
Blown across a moonlit sky.
She revels in her smoky cloak…
And suddenly, I awoke.

My dream-dizzy eyes
Blur silhouetted lines-
Hands catch shadow lovers,
Rustling aspen leaf covers-
Dappled dreams blow out of mind,
Like fallen leaves in the wind.

Comments Off on Aspens

March 20th, 2013

It's been a long while since I've been completely absorbed by a story. I hadn't come to this realization until seeing Inevitable, Jordan Puckett's short, brilliant play now at the Un-Scripted Theatre in San Francisco. Many things about Inevitable are surprising: the story itself, which neatly unravels in under an hour; the production's short rehearsal time, which started just three weeks ago; and the ability of such a young playwright to write so insightfully about growing old and coming face-to-face with debility and death.

Honest, heartbreaking and sometimes funny, Inevitable has a lot going for it: a smart script, great acting, minimalistic stagecraft and a thoroughly captivating story.

Performed by a cast of three, Inevitable takes you inside the mind of Evelyn (Molly Noble) as she attempts to do the impossible: stop time. Time past is embodied by Molly's younger self and by her German mother (both played by the versatile Carlye Pollack), who haunt the outskirts of the stage, as though imitating the tick-tock of the clocks that hang from the ceiling and around Evelyn's neck. Meanwhile, Evelyn and her family — rational husband Carl (Keith Burkland) and daughter Rene (also Pollack) — oscillate between clinging together and falling apart. As the story unravels, Evelyn reveals that she has been diagnosed with Huntington's disease, and preventing what is the inevitable becomes an urgent task for all members of the family.

Inevitable officially opened March 2 on the small stage of the Un-Scripted Theatre, launching the third season of the San Francisco Playhouse's Sandbox Series. Limited seating, a simple set design (table, chairs, shelf) and lack of curtains made the performance that much more intimate; the cast even prepared for their performance in front of early attendees, some quietly flipping through highlighted scripts, whispering lines or doing last minute breathing exercises.

Perhaps this sort of venue wouldn't work for larger productions that rely more heavily on theatricals; however, minimal worked well for Inevitable. It quickly became apparent that the story could carry itself without things like set changes or music.


This sort of small-budget production is exactly what the Sandbox Series is all about: bringing strong scripts to the forefront without paying exorbitant production costs. Discovering new talent like Puckett, who started as an intern at the Playhouse a mere two years ago, is also part of the mission.

"If theater is to continue to be a part of our culture and thrive into the future, it is essential to develop new voices," founder Bill English said in an interview with the San Francisco Bay Guardian.

Puckett's fine writing succeeds through the careful orchestration of director Lauren English and the work of a seasoned cast. Noble, who has performed with companies across the country, is simply a brilliant performer; in the final scene, she transforms within seconds into a person suffering severely from Huntington's. Burkland (who later told me that he spent all day in rehearsals for Inevitable and another upcoming performance), has a natural ease onstage that infused the characters' relationships with honesty and warmth.

Raw and intensely honest, Inevitable is really about how we all ask big questions that do not have answers, and how we all choose to ignore the ticking clock, refusing to accept the ultimate end. I eagerly look forward to the next production from the Sandbox Series, which is sure to quench my thirst for a fresh and engaging performance.

See Inevitable at the Un-Scripted Theatre until March 23. For more information, visit www.sfplayhouse.org.

Comments Off on Inevitable by Jordan Puckett: Ignoring the Ticking Clock

January 31st, 2013

These days, crafts once indelibly tied to older generations are coming back into style. Quilting, crocheting, knitting and embroidery are just a few crafts that have recently developed artistic niches.

Artists, like Long Beach-based embroiderer Amy Sheridan, have revitalized these age-old artforms by injecting them with today's cultural and stylistic trends. Unlike the traditional "Home Sweet Home" embroidery, Sheridan's work showcases everything from pop culture icons, to Monopoly, to vaginas.

"I always say that if I owned a white lab coat (and had finished college), I would be a scientist," said Sheridan on her Etsy profile. "I'm always experimenting: in the kitchen, through my camera lens, in an embroidery hoop, on canvas and in any other medium I can find. I like to look at, think of and present things in different ways."

Sheridan has been making art for as long as she can remember, but her interest in embroidery developed a few years ago after she stumbled across the work of Shannon Genova-Scudder, who creates embroidered pop culture portraits.

"I had no idea that embroidery was allowed to be that cool," Sheridan said. "I forced her to become one of my best friends and tell me all her stitching secrets."

Sheridan is perhaps most famous for her wildly popular hand-stitched Kanye West tweets, which are exactly what they sound like: framed and stitched tweets by Kanye West.

"Really, though, Kanye's just saying what we're all thinking," said Sheridan on Etsy. "Who amongst us hasn't lamented the inability to procure a decent cherub-decorated rug or, at one time or another, needed to apologize to Taylor Swift?"

Art Animal had the chance to talk with Sheridan about her craft, her inspiration and being the mother of a 14-year-old.

AA: One of my favorite things about your Etsy store are the clever descriptions of each item. Your blog is equally hilarious. How long have you been writing?

AS: You're entirely too kind. I've been writing since about second grade — mostly fiction. I started my blog when everyone started blogs and over time it has become a history of the major and minor events (mostly minor) in my life (or at least the ones I can make funny). Most of the pieces I make have a story, usually tangential, and usually only significant to me, but I like to be able to share a little bit about how or why I chose to do something.

AA: Every time I hear the word "embroidery," I think of a woman in a gingham dress quietly sewing in her little home on the prairie. Is embroidery making a comeback? Do you wear gingham when you embroider?
AS: A lot of people think of embroidery as a fussy thing grandmas do — flowers on doilies or tablecloths, "Home Sweet Home" samplers — but it's also an art/craft that's been around for hundreds of years and is constantly evolving. There are some amazing artists right now who are making pieces that grandmas wouldn't even recognize as the same art form.

And of course I wear gingham when I stitch. I'm not an animal. I've got a lovely full-length dress and matching bonnet — same outfit I wear for churning butter, hauling water from the creek and making supper.

AA: So much of your work references recent pop culture trends. I'm guessing you're not one of those people who complains about "kids these days"?
AS: Please. I regularly tell my son (who will be 14 on Saturday) to pull up his pants and get a haircut. And I call his music crap often. I also yell at kids to get off my lawn all the time. And to stop wearing UGG boots with short shorts. And to stop saying "YOLO". And to stop trying to make One Direction happen.

And I die a little bit inside every single time a classic 80s movie gets remade (I'm looking at you, Karate Kid and Can't Buy Me Love).

AA: Other than pop culture, what else inspires your work?
AS: I find a lot of inspiration from other artists — not in a plagiarism kind of way, but in a "HOLY CRAP, THAT'S SO COOL, WHY DIDN'T I THINK OF IT?" kind of way. Like Ellen Schinderman (the curator of the Stitch Fetish show) who does these amazing large-scale cross-stitches, Luke Haynes who does these unbelievable quilts, and Meghan Willis who does these mixed media embroideries that are deceptively simple.

AA: Tell me about your Gallery of Glamorous Grooming. Are you making a statement? Did you just wake up one day and feel like embroidering some vaginas? Something in between?
AS: I'd like to say it's a statement about the unrealistic grooming expectations that people have for women right now, but it actually sprang from a conversation I was having with some embroidery friends about the use of Turkey Stitch (which is a tufted stitch used to add texture or fluff to embroidery) and how it's the best stitch to use for stitching pubes. That snowballed into a stitched pube study for the Stitch Fetish show. I was initially going to style the piece like a vintage scientific illustration, but I decided that individual portraits of the most ridiculous parts would be better/more ridiculous. The completed gallery has five pieces: "Rapunzel", "I Clitty The Fool", "I Never Promised You A Rose… Bush", "Bo" and "The Bearded Lady".

AA: Ok — I have to ask about your hand-stitched Kanye tweets. What is it about Kanye West that makes you want to commemorate his words?
AS: Twitter is such a bite-sized, instant gratification form of media; 99.9% of tweets are instantly forgettable, something tweeted an hour ago is already gone from timelines and might as well have never happened. So many of Kanye's tweets were ridiculous — lamenting the challenges of finding Persian rugs with cherub imagery, being emotional about fonts, bragging about setting off metal detectors with swag — and I thought that the only way to make them more ridiculous would be to stitch them up like they were family heirlooms or ancient proverbs.

I'm also a huge Kanye fan. I love that guy. I love his music; I love the Elvis-in-Las-Vegas level of  his stage persona; I love that he wears his emotions on his sleeve; and I love that he's not afraid to make mistakes. And his Twitter was unique because he was one of the few celebrities who a) ran his own account and b) is decent at spelling, grammar and punctuation.

AA: You're also on Twitter. Do happen to have a special formula for being witty in 140 characters?
AS: Twitter posts are like going through a trick-or-treat bag: sometimes you get good stuff and sometimes you get raisins. I try not to use mine for stuff like photographing my meals or officially "checking in" to let the world know which TV shows I'm watching. I usually post if I think I might have something funny to say and I'm too lazy to write up an actual blog post.

AA: Should I hang this in my bathroom? http://www.etsy.com/listing/121564629/im-the-eater-of-worlds-and-of-children?ref=pr_shop
AS: I'm actually more partial to Pennywise being above a bed so he can watch you when you sleep.

AA: Any upcoming projects that readers should watch out for?
AS: I'm not really organized enough to plan out projects too far in advance, but I've got a huge list of stuff I want to do at some point in the future. I've done a handful of pieces based on horror movies and I'll probably do more of those. I'm also a big fan of mixing up stuff like nursery rhymes and action figures, hip hop lyrics and vintage kitschy designs, and dark macabre stuff with sweet vintage fabrics.

For more on Amy Sheridan, visit her blog at supervelma.blogspot.com or her Etsy shop.

January 23rd, 2013

On the 40th anniversary of Roe vs. Wade and the dawn of the 1970s feminist art movement, photographer Ursula Brookbank's new exhibit, SHE WORLD, opens at an interesting moment in history. On display at the Krowswork Gallery in Oakland, California, SHE WORLD investigates the private histories of real women through objects that Brookbank has collected for over a decade.

Armed with a flashlight, visitors can explore two dark rooms that open into a world of minute discoveries and alluring inferences, all from what looks at first like a clutter: everything from handmade crafts, to sewing scissors, to newspaper clippings.

SHE WORLD drew me into an investigation of personal archaeology. To her, Brookbank's objects disclose a narrative that links them to other times, places, people. Each finding in SHE WORLD is a clue that suggests something about its origin and owner, and suggestion pulls the eye and mind to something richer and more unsettling than any straightforward conclusion.

Her photography and films show a similar disposition to let objects tantalize and provoke. Brookbank zooms in relentlessly on details in a scene, piecing them loosely together to tell a story that can be shaped by the viewer.

"The objects themselves are emblematic of the spaces they occupy," said Annie Buckley in her article, The Fiction of Spaces: On the Photography of Ursula Brookbank. "It is as if, in trying to portray what is always already gone, she must seek after shadows."

There are plenty of shadows in SHE WORLD, caused both by the flashlight in your hand and by the enigmatic depth to Brookbank's work. I went through the exhibit twice before I started to fully understand Brookbank's genius.

At first, all I saw were old antiques displayed as though they were part of a rather creepy estate sale: open jewelry boxes revealing a scattered collection of sewing scissors and black-and-white photographs; blackened, disintegrating shoes placed in rows on a table; a framed Mona Lisa above a bookcase containing random detritus. The objects and their placement in the room seemed arbitrary, and combined with the darkness of the room, I felt palpably sad that I couldn't quite strike up a connection with all of this old stuff.

But then certain objects began to resonate with me: a microscope sitting on a dusty shelf, a nameless book burrowed into the crack of a wall, a photograph of a man with the caption, "This is Tony with Jester looking toward a cloudy downtown L.A." I became entranced with the endless number of stories these objects could tell, each spotlighting a woman who probably never thought her personal life was that interesting. Hours later, I found myself dreaming up stories behind certain objects captured by the narrow beam of my flashlight, as though prints of the objects had developed in the chemicals of my brain.

The most impressive thing about SHE WORLD is the endless number of ways a visitor can experience it. One wall of the exhibit has printed explanations about some of the objects on display, but Brookbank wisely leaves much to the viewer's imagination. In this way, visitors lend their own vitality to the exhibit, picking out certain objects on display that are personally interesting. The flashlight is a stroke of genius: you must look, you must cast your focused eye, with the constant sense of how much remains unseen.

Strange and otherworldly, SHE WORLD is more than an impressive collection; it is both sentimental and scientific, engaging us with people we never knew and letting us imagine for a moment that the past is not as far away as it seems.

See SHE WORLD by Ursula Brookbank at the Krowswork Gallery through February 9. For more information about Ursula Brookbank, visit www.ursulabrookbank.com.

Comments Off on Review of Ursula Brookbank's SHE WORLD

July 8th, 2012

Sirens. Heavy footsteps thumped across wood floorboards over my head. I thought of that scene in The Birds when Tippi Hedren is trapped in the attic, and all you hear is the constant slamming of bird bodies against the roof. That goddamn familiar voice leaked through the ceiling hissing in my ear. "It's a sure thing, boys. She's here…We'll find her soon enough." And boots clumped across the floor in response like a herd of brainless cattle.

"Show time," I whispered to myself.

Hanging lights shook over the dingy hall, and grotesque shadows played across the walls. Behind me, the mouth of the empty safe cackled silently, its empty deposit boxes strewn across the floor like freshly pulled teeth.

I turned toward the security guard sprawled on the dirty cement floor. A sandwich creeping out of its plastic wrapping lay just past the toe of his black boot, mustard oozing like a wound from between two slices of Wonderbread. I glanced at his bronze nametag: Ned. Ned didn't seem to have much of an appetite anymore. He looked at me with bulging eyes, his fat splotchy face contorted into a toothy smile from the gag cloth wrapped tightly around his head. I bent down and patted a chubby cheek.

"Well honey, I've gotta go," I said in a low voice. "Smile for me?"

As I drew away his pupils shrank in panic. He knew what came next. Drool spilled over his bloody face as he gummed the cloth and burbled.

"Memorable last words," I laughed.

With gloved hands, I screwed a silencer onto the barrel of my revolver, aimed, pulled the trigger. Like a slug, his body left a gleaming black streak of blood behind it as it slid slowly down the wall.

Time to disappear. I slipped into a vent directly above the guard's head, squeezed backward into the shadows, pulled the cover back on, and waited. I heard the police squad rumble down the stairs. Heard their exclamations at the sight of the guard's still body and empty safe. That voice, that too fucking familiar voice, came last, its thin whisper jumping out at me over the scramble of echoes made by the rest.

"Poor Ned," it said, carelessly.

My brain sang to calm my nerves.  Poor Ned…Ned is dead…too much lead…to the head…Gradually, the noise faded down the hall, and then there was merciful silence. I waited for another fifteen minutes, listening to the squad rustle through the building like a giant roach infestation. I shifted nearer to the grate and peered through the slats. Cautiously, I pushed the cover loose and began to crawl out.

Suddenly, I heard heavy footsteps coming down the stairs around the corner from the safe. My heart jumped into my throat and I scrambled back into my dark hiding place. I had just enough time to secure the slatted cover and slip my gloved fingers out of sight before an officer rounded the corner.

"…I have a feeling…" a gruff voice said slowly.

"Get your ass back up here," someone commanded from the top of the stairs. "We have to keep it clean! Forensics is gonna scour the place in the morning."

"Yeah, I'm coming," the officer said distractedly. I could see him squinting down the hall, one hand resting casually on his holster, trying to discover something he instinctively knew was here.

I gripped my revolver, my stomach doing flips. Goddamn idiot, I silently shouted at him. My cover gets blown, so do you. As though he could sense the direction of my anger, his eyes locked on the vent.

"What if…" he mumbled.

I slid the revolver forward.

Sausage fingers squirmed through slats to pry the vent off. I fired at the surprised face that met mine. His towering body fell backwards and hit the wall behind him. Smack. I knew that I only had seconds. I shoved Ned over, and ripped open the back of his shirt. Packs of money spilled out like guts. I shoved them into my bag and ran for my life.

My head spun dizzily as I tried to remember the floor plan. Poor Ned's poor head…I frantically thought. I ran to the end of the hall and pushed open the stair door. My only chance was that the squad would use the stairs near the safe and would be in the basement checking on their unfortunate colleague by the time I hit the main floor.  As I ran, I heard shouting and began to gain hope that my reckless plan would work.

I paused at the door to the main floor to recollect my wits and listen for human movement. Nothing. I heard footsteps on the stairs below me. I took a deep breath and kicked open the door, lifting my revolver as soon as I was through.

"Like smoking a fox from a hole…"

That voice. The one that had haunted my dreams every night since last October when everything about my life began its steady downward spiral.

"Jesus…it's you…" I said, the words escaping my mouth unwillingly, as though they'd been punched out of my stomach.

That ugly mouth puckered around a cigarette. "Smoked. Out." it said, exhaling each word separately. Hot smoke words blew across my face. My eyes burned.

"You can't disappear now," it whispered into my ear. I felt the cold end of a pistol jab my ribs. "Now…hand over the cash."

I never would have imagined being in this situation a year ago. A year ago I would only be in a bank between the hours of nine and six standing in line with other customers, handing a bored teller my carefully filled-out deposit slip. A year ago I would have been in bed at this time of the night.

A year ago I only knew cops from a distance. From a happy, naïve distance.

"Hand it all over. Like we planned."

That voice again. That horrible voice contaminating my right ear, spreading into my brain. Existing singularly, bodiless. Existing on the edge of streetlight circles, in filthy alleyways, in blocked doorways. Existing as my personal dead end.

I remember a year ago laughing with my friends on the street, meeting them for a movie without being afraid of darkness in a theater. I remember eating dinner after work, and staring dreamily out the window, thinking about all of the things I wanted to do with my life.

Then, one night something happened that I haven't told a soul.

But somehow this voice knew all of my dirty secrets. And from then on, I was its prisoner.

I could hear the rest of the squad coming up the stairs, their voices becoming clearer. It couldn't end like this. It couldn't end with blackmail dangling its trophy over my head. Suddenly, I knew what to do. It was as if some higher power had cleared all of the smoke from my head, oiling the rusted mechanisms of my brain.

"Ok," I breathed. "I'll hand it over."

I whirled around, flung open the door, and threw myself at the squad team rounding the last corner of the flight of stairs. "You bitch!" said the voice—but it was quiet and whining.

I felt a hot pain shoot through my side but I didn't care. Not anymore. I fell in a pile at the feet of the officers. Handcuffs closed around my wrists but I felt freer than I'd been in a long time.

Comments Off on Out Like Smoke

July 8th, 2012

The ocean sparkled in the noonday sun. Beatrice—plump, divorced—wore a polka dot one-piece. Her rump sank in the sand. A sudden storm darkened the waves like a cloak.

She remembered a moustache tickling her lips. A red umbrella trampled in the street. And then, the front porch echoing, "Come back, come back."

The sand sharpened the wind into knives and she cut in two. One battered Beatrice blew away. Rain fell to heal her wounds. She looked to the sky, and looked at her hands, and smiled.

Comments Off on Flash Fiction: The Beach

July 6th, 2012

French artist Françoise Pétrovitch's work is something of a balancing act. At first glance, viewers may be inclined to smile (one of my favorites being a wall drawing of a girl curtsying with rabbit ears on her head); however, upon closer inspection, her work invariably contains an unsettling duality that lingers just beneath the surface (for example, a painting from her 2010 collection, Sans Titre, showing a girl outlined over an all-blue background with only her hands and arms painted red). Pétrovitch's true strength as an artist lies in her deft ability to draw viewers into her strange, fairy tale worlds while maintaining a delicate balance between the extraordinary and the ordinary, innocence and evil, playfulness and violence.

Born in the picturesque town of Chambéry, Pétrovitch has been making art since the 1990s. Today, she lives and works just outside of Paris, and teaches at at the Ecole Supérieure Estienne. A versatile artist, Pétrovitch's work spans genre and medium (from paintings to video, pencil to steel); yet no matter the form, she consistently returns to the raw imagery of children and animals, using both to explore complex emotions and narratives.

Her recent exhibition at the Museum of Hunting and Nature in Paris garnered critical acclaim for its whimsical juxtaposition to the museum's permanent collection of taxidermy, firearms and tapestries. Wandering visitors were surprised to find a cartoonish deer head sitting placidly between the muscular legs of a stuffed, fanged leopard, its ears perked as if curious about the viewers just beyond its glass-encased home; or a rabbit head sculpture regally surveying the room from its perch on an ornate desk. Her work has been featured in other unusual spaces, like the Chateau du Rambouillet and a kindergarten.

Last month, the French Institute Alliance Française in New York exhibited Pétrovitch's Inklings, a collection of ink-wash drawings, along with her video installation, Le loup et le loup (The wolf and the wolf). A sequence of over 200 drawings, Le loup et le loup (a twist of Jean de la Fontaine's fable, The Wolf and the Lamb) tells the story of two children whose innocent play is interrupted by the savagery and violence of hunters. Inklings similarly evokes violent fable elements with ink portraits of children and animals literally bleeding together on canvas.

Pétrovitch took the time to talk with Art Animal about her inspiration as an artist and how it all started.

Art Animal: Tell me a little bit about yourself as a professional artist. When did you first start showing your work?
Françoise Pétrovitch: I began showing my work when I was 25 years old – essentially paintings and drawings on school notebooks or postcards.

AA: Have you always wanted to be an artist?
FP: Yes, I've wanted to draw since I was six years old and I never changed my mind. At the time I said that I wanted to draw because I didn't know what an artist was.

AA: Are there any particular artists you have always looked up to?
FP: I discovered Degas when I was rather young from a monographic book. I have never stopped admiring him. I like his rigor, his strong sense of composition, his fierce but incisive eye.

AA: What was one of the first things you ever drew?
FP: Princesses on swings being pushed by Prince Charmings!

AA: Do you have a favorite children's story that gives you inspiration for your art?
FP: I would say [the French fairy tale] Donkey Skin because of the dresses, which are the colors of the weather, the moon, and the sun.

AA: How has your art developed since you first started doing exhibitions?
FP: My art develops continuously while always maintaining drawing as its motor. Whether it becomes a film or a sculpture, drawing is always the starting point.

AA: Tell me about the inspiration behind Inklings. What is the process behind creating one of the ink washes?
FP: I always create my drawings spontaneously, without preliminary sketches. The drawings are organized by series. They are large ink drawings: an animal head and a human head are attached, as if fused together. Or "confused." There is an ambiguous feeling that comes out of it, both tender and dramatic at the same time.

AA: What I find most interesting with your work is how you manage to maintain a balance between two completely opposite reactions – grotesque and playful (like many of your Inklings), disconcerting and sweet, innocent and violent (such as Le loup et le loup). How do you find a balance between the two? Is that something that you intend to come out in your work, or does it come naturally?
FP: I am concerned with the idea of the double, with this ambiguity. I'm interested in the fragility as well as in the boundaries between the two. Who is on the good side? Who is on the bad side? This is why, naturally, the two are always in a pair.

AA: You recently had a show at the Museum of Hunting and Nature, integrating your art into the museum's permanent collection. What was that like? How did you choose where to place your art?
FP: I conceived of certain pieces in terms of the spaces. For example, for the blue room, I took a sample of the tapestry on the walls and tried to find the same blue for the enamel on my sculptures. It is a hunting museum and I played with camouflage, like an animal camouflaged within the décor. I also wanted each display to be different. Sometimes the relationship is narrative, sometimes formal, sometimes off-kilter.

AA: You have created art through a variety of different mediums, from pencil, to video, to stone, to steel. Do you have a favorite medium to work with?
FP: The choice of the material depends on the direction I take: sometimes a pencil's fragility is necessary, sometimes the hardness of metal imposes itself.
AA: Do you have any projects coming up that you would like readers to know about?
FP: I am currently working with the Sèvres [porcelain] manufacturer to create a dinnerware set. It is a very special exercise. I've imagined around twenty different characters with scenes that blend into each other and harmonize with each other to tell a different story each time. This will be a dinner set that permits different combinations – different atmospheres for each table setting.

Comments Off on Interview with Artist Françoise Pétrovitch

July 1st, 2012

Performance artist Anya Liftig has eaten fish guts, slathered herself in chocolate frosting, and willingly had 243 eggs thrown at her. She has eaten food with her feet, licked a cactus until her tongue bled, and walked the streets of New York pretending to gorge on a baby. All in the name of art.

Liftig's work has been featured in venues and museums around the globe and written about in such publications as the New York Times Magazine and The Wall Street Journal. A graduate of Yale University, Liftig layers her strange, fascinating and often humorous performances with highly intellectual theories. For example, "Want Me Like Time" (in which the artist "birthed" a wad of pizza dough, then licked and sucked it into the shape of a human baby) came from the expression "to lick into shape," originally coined by Aristotle's theory that bear cubs are born as amorphous shapes and need to be licked into shape by their mother. Many of her other performances explore how the mouth acts as the site of confrontation with knowledge and how animals play a role in understanding the human self.

Liftig has always shown had an aptitude for creating and performing art, considering her first performance to have been in the fourth grade when she built a fortress out of books and lived inside for nearly a week. Growing up in an affluent suburb of New York City, Liftig had ample opportunity to develop her artistic side early on, beginning with ballet and theatrical performances. Childhood summers were spent in a diametrically opposite environment with her mother's family in rural Kentucky (which led to her Jewish father dubbing Liftig and her siblings "Jewbillies").

Tellingly, one of her role models is Serbian artist Marina Abramovic, known for testing the limits of the body and mind through performance. Most recently, she made headlines for her 736-hour and 30-minute "The Artist is Present" performance at New York's MoMA, during which Abramovic sat motionless at a table in the museum's atrium. Museum visitors were invited to sit for as long as they wanted across from the artist and Liftig was one visitor. She created her own performance, "The Anxiety of Influence," from the that experience (the title derives from Harold Bloom's work of literary theory about rising above the influence of idols). She arrived at MoMA as the first visitor in line – dressed exactly like Abramovic in a long blue dress with her hair braided over one shoulder – and confronted her artistic idol by sitting directly across from her, motionless, from the museum's opening to its close (over six hours).

One of her upcoming performances, "I'm a Groucho Marxist," similarly tests the artist's bodily limits. In an old parking lot in Atlanta, Liftig will attempt to climb a barricade constructed out of repurposed steel and covered in peanut butter while blindfolded and partially bound. The performance evokes Atlanta's barricaded past, dividing whites from blacks, the title coming from a slogan painted on the walls of the Sorbonne in the late sixties that symbolized a rally against oppressive forces threatening individual expression.

We had the chance to chat with Liftig about becoming an artist, the dangers of peanut butter, and licking things.

Art Animal: Have your parents always known that you would become an artist?
Anya Liftig: My parents said that they always knew. Little kids usually play with their hands and everything that kids played with their hands, I played with my feet. Everything that you'd play with a certain way, I'd play with differently. They always took it for granted that I kind of always saw the world upside down and it made sense to me in my own way. They were very encouraging of that. I don't think they thought of it as particularly artistic in the sense of clay or traditional media. I think they just thought that I was funny and goofy, and doing my own thing.

AA: When was your first performance?
AL: The first time that I remember being on stage was playing Peppermint Patty in a production of Charlie Brown when I was about three and a half. I remember painting freckles on my face and wearing my mom's hippie glasses. I remember being slightly pissed that I wanted to be Lucy but being cast for Peppermint Patty.

AA: Has performance always come naturally to you? Do you still get nervous before you start performing?
AL: Yeah, I definitely still get nervous. I mean, I've done a lot of different types of performance in theater and art, but I definitely still get nervous. There's still that exhilaration, and thrill and a high. It's not like anything else that I've ever experienced anywhere else in life.

AA: How do you go about developing a character on stage? Does that take as much time developing the performance?
AL: I don't really want a character – so to speak – but I construct some type of alternate being or something that has its own person, a separate person. The way I do that, I guess, is I collect images, video, sound – things that I want to emulate and react against. So it's not really a character like, "this is a person who would do this," or "how would this character react." It's more of a state of mind.

AA: In "The Human Factor," you begin your performance very humorously and then build into something more gruesome. Is this something you aim to do in your work?
AL: I think that those performances are very reflective of how I feel about the world around me. But my goal is to do something that will initially grab the audience – that is sort of humorous or absurd – and kind of draw the audience in. Then we spend time together and the audience becomes complicit in the enjoyment of the action in its absurdity. The audience is also complicit in violence and the strange places that the performance goes to. So the audience is pulled in and then also repulsed. I think that for me, rather than just doing one thing or the other – just drawing somebody in and then meeting them there or just repulsing them – I want to do both of those things and get in between those places.

AA: Has the audience ever reacted in a completely different way from what you were expecting?
AL: Yeah, I never really know how the audience is going to react. I mean, I was honestly surprised when they laughed initially [in "The Human Factor"] in certain places, or sometimes the voracity of their laughter. I think that there are different things that audiences find funny. Every audience is individual and every audience finds different things gruesome and horrific.

AA: I think the last time I spoke with you was right before your "Adoring Appetite" performance in Art in Odd Places, in which you and your collaborator, Caitlin Berrigan, walked through New York pretending to be mothers eating cream-filled babies. How did people react?
AL: I think that any time we do public performance like that – or anytime that you do roaming public performance like that – it can be difficult and exciting. Very exciting.

AA: Do you feel like you have to adapt faster in public than if you were performing in a gallery?
AL: You have to be really on your toes. You want to be open to possibility, and you want to be open to spontaneity, but you also have to be aware that just a split second could change the direction that you're not really thinking of – that you as an artist might lose control of.

AA: To shift gears, I was going to ask about using food in your performances. Is that one of your favorite mediums to work with? Has food ever not worked the way you wanted it to in a performance?
AL: Sure, yeah, food is one of my favorite mediums. It's certainly not worked at times. Certainly one of the difficulties of food. It's a medium that you use quite a bit, particularly in performance art. I think because it's cheap, because it's easy to obtain in different places and there are a lot of practicalities that make it very appealing.

AA: You also eat a lot of unusual things: like fish guts, food off of your feet, flowers. Have you ever gotten sick?
AL: I've never gotten sick. I've felt uncomfortable. I have to say that "Adoring Appetite" was hard. Caitlin and I were eating a lot of the material that we made the babies out of: essentially palm oil and sugar. It was basically like a sludge going through your body. Although it was edible, it was not fun. So, you know, that's the only thing that's made me ill.


I'd say that the worst thing in terms of food was one time in grad school – I slathered my face with chocolate frosting and took photographs. That made my skin erupt into, like, 8 million different directions. It was awful. My skin was just decimated. But I learned after that: don't slather yourself in chocolate frosting.

AA: As much as you might want to…
AL: Unless it's the right one. I'm getting ready to do a project that involves peanut butter. A lot of peanut butter, which I understand you can choke from. There are actually people who die from eating – from choking – on peanut butter.

AA: This is for your upcoming "I'm a Groucho Marxist" project. How do you come up with such an idea, and ideas for new artistic performances in general?
AL: I guess my working method is that I think of something that would be really stupid and impossible and then try to do it.

AA: So for this project were you like, "Mmmm. Peanut butter," and it went from there?
AL: I was like, "I'm really into licking things. What's the hardest thing I could lick?"


Comments Off on Interview with Performance Artist Anya Liftig

July 1st, 2012

MariNaomi is one of those unique comic artists (and writers in general) who can lead you into a dark abyss and bring you out laughing.

"Despite having loads of opinions about most given subjects," Mari admits in her artist's statement, "I am utterly passionate about not taking myself seriously."

A self-taught artist who grew up in the Bay Area, MariNaomi has been writing comics since 1997. She has self-produced a mini-comics series, Estrus Comics, has been featured in multiple anthologies and regularly writes online columns for a variety of publications.

Her novel, Kiss and Tell: a Romantic Resume Ages 0 to 22, is a prime example of the lighthearted humor that she expertly weaves into her adolescent stories of life, love and loss. Far more than just the fun and fluff suggested by its title, Kiss and Tell catalogues the author's romantic relationships, wrapping each neatly into a single story. Adolescent yearning and the pangs of growing up string the relationships together, building into heavier themes of sexual identity, drug experimentation and heartbreak.

The real magic of MariNaomi as an artist is her ability to depict herself so unflinchingly. Her comics find energy and humor in the utter mortification of her comic self. She is merciless in her presentation, never willing to censor herself or cover up mistakes. By the end of all of her memoirs, you can't help but love Mari for her quirks and eccentricities, and sheer acceptance of herself.

Art Animal had the chance to chat with MariNaomi over coffee in SOMA about her early aspirations to become a novelist, dancing naked in a hotel room, and her newest comics.

Art Animal: Which came first: comics, art or storytelling?
MariNaomi: Storytelling. But I always drew and doodled and stuff. I never had any aspirations with that. I wanted to be a writer because I thought that would be cool, I guess.

AA: What made them come together?
MN: When I first started reading comics that were amazing. I was like, "Oh, I didn't know you could do that. That's really cool."

AA: Any particular comic that inspired you?
MN: Jizz by Scott Russo. That was the first one I read that I was interested in. It was a couple of years later that I started actually doing my own comics.

AA: I feel like it's hard, at least as a writer, to go from a story and then having to pare it down. Do you ever feel the same?
MN: It's kind of like editing. You say a picture is worth a thousand words – I'd say it's probably more like 100.

AA: I love that your comics make me laugh while still exploring darker themes. Did that come naturally or was that a skill you had to develop?

MN: It's mostly intuitive. For a lot of comics, I put a lot of thought into how my stories are going to be. But I do want to be funny. If I write something and I think it's too heavy-handed, I'll say, "Ok, where can I infuse some humor in it?"

AA: Your Rumpus comics are pretty dark. Was this something new for you?
MN: I feel like those are all a little darker than I am. But I like what I've been doing. I've been learning. I'm completely self-taught at everything and I feel like these were a really good lesson to me on how I can be a better storyteller and stuff. But yeah, when I started doing them, I was like, "God, these are so depressing. I have to do something that's not depressing."

AA: Like your restaurant reviews in SFBay.ca? They're so fun!
MN: Thanks! I mean, they're not super professional for reviews, but it just seemed like a fun way to get a tax write-off at some restaurants.

AA: That's always a good thing in our line of work. Tell me about your other stuff. Have you always done memoirs? Ever been interested in fiction?
MN: I wanted to be a novelist since the age of, like, three. I don't even know if I could write yet but I remember telling people that I wanted to write. I know I did because in my kindergarten autobiography I said, "I want to be a writer or a scientist of caterpillars." Which I haven't done yet, but…

AA: Who inspired you to be a writer?
MN: I really liked what Mary Fleener especially was doing. She told stories about her crazy roommate. That's one of my favorite stories ever: she has this roommate who's, like, really busty and always getting taken advantage of by guys, but she went along with it. It was so sad and funny. That really inspired me. I was like, "I've got stories like that! I can tell stories!"

AA: So, biggest question of the day: did you really meet Duran Duran like you wrote about in "Heartthrobs" on the Rumpus?
MN: Mmhmm. That was one of the stories where I was like, "How much do I tell?"

AA: Do you think anyone from the band ever read it?
MN: I know one of the groupies did because I saw some comments that people sent me on Twitter. People were thinking that it didn't happen. Really? It's not like I'm saying I slept with Duran Duran. I just happened to be there…

AA: I mean, you did take Roger Taylor's underwear…
MN: Yeah, but it's not like I took it off him!

AA: I love one of the final panels in "Heartthrobs" that shows a bird's eye view of the backyard, with each band member drawn as a star in the center of a circle.
MN: Seriously, that's exactly what it looked like. I mean, we got there early so we got to talk to some of them, but it was just like little clusters of people and each one was at the center of each cluster.

AA: I love how at the beginning of Kiss and Tell you say, "This is dedicated to my parents who I pray will still speak to me after they read the contents of this book." For me, it's hard to really lay it all out there. Was that difficult for you?
MN: I'm one of those too-much-information people so it kind of came naturally to me. [My editor] wanted more information about my parents and that was really hard because I get along with them so well now, but back then we had such an awful relationship. Not awful – that's harsh. But we didn't get along, especially me and my dad.

There's always this fine line about, ok, I want to tell a good story and tell an honest story, but what part of the story is mine and what belongs to other people? I don't want to violate someone else's privacy as a result. So that was the toughest part for me, just to balance that. For me, I'll tell anything. I'm constantly pushing my boundaries. I don't want to get embarrassed by anything because I know it makes a good story.

AA: Yeah, there's something about getting a story out to the world that changes how you felt about it.
MN: Totally, it's cathartic! The other day, while I was in Ohio – it was so embarrassing – I was trying to get to sleep, but I couldn't because of the three-hour time difference. I had to get up early in the morning to do the show, but I had all this energy since I'd been sitting on the plane all day. I was like, "shit, I'm just going to dance around. Naked." I had my stupid black socks on because I don't want to walk on the nasty parts of the carpet in the hotel. I'm a horrible dancer, so I'm just flailing all over the place. The lights were on and I didn't really think anything of it because there were curtains that I thought were curtain curtains. But no: they're sheer curtains that look right into another hotel room. And I'm like, "oh my God, that's horrible! I hope I'm not recognizable! What if someone were taping this and they put it on YouTube and someone recognizes me. Oh my God. I'm going to be like that Jedi kid." I  was just mortified. But I thought about it the next day and even drew my cellulite as I was jiggling around.

AA: Do you have any other stories like that where writing helped you feel better about the situation?
MN: There's a chapter in [Kiss and Tell] where my boyfriend in high school is going down on me. I felt kind of funny and as I realized that I got my period. I turn on the light and realize that he's covered in blood, I'm covered in blood, and that's when my parents come down the stairs and they're like, "Mari, why is your light on?" And I'm like, "Ahhh! Get in the closet!" It was so mortifying.

AA: Do you ever think, "I'm going to write a story about this?"
MN: Sometimes. When I started working at the hostess bar in San Jose, I was just thinking that I could use it for a book in the future. There were definitely things I did – when I was younger especially – where I was like, "this would make a good scene in the story, or, "I should be more adventurous so I can live life and write about it later."

July 1st, 2012

Welcome to Art Animal, a unique site dedicated to weird and wonderful art. Learn more about our contributors and our magazine by visiting our About page. Then check out our latest pieces about extraordinary women doing extraordinary things in the world of art. Thanks for stopping by!

Comments Off on Welcome!