Art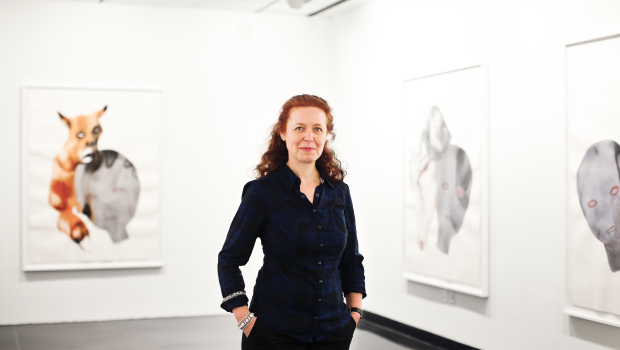 Published on July 6th, 2012 | by Alison Kjeldgaard
0
Interview with Artist Françoise Pétrovitch
French artist Françoise Pétrovitch's work is something of a balancing act. At first glance, viewers may be inclined to smile (one of my favorites being a wall drawing of a girl curtsying with rabbit ears on her head); however, upon closer inspection, her work invariably contains an unsettling duality that lingers just beneath the surface (for example, a painting from her 2010 collection, Sans Titre, showing a girl outlined over an all-blue background with only her hands and arms painted red). Pétrovitch's true strength as an artist lies in her deft ability to draw viewers into her strange, fairy tale worlds while maintaining a delicate balance between the extraordinary and the ordinary, innocence and evil, playfulness and violence.
Born in the picturesque town of Chambéry, Pétrovitch has been making art since the 1990s. Today, she lives and works just outside of Paris, and teaches at at the Ecole Supérieure Estienne. A versatile artist, Pétrovitch's work spans genre and medium (from paintings to video, pencil to steel); yet no matter the form, she consistently returns to the raw imagery of children and animals, using both to explore complex emotions and narratives.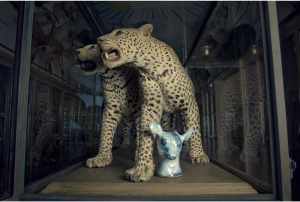 Her recent exhibition at the Museum of Hunting and Nature in Paris garnered critical acclaim for its whimsical juxtaposition to the museum's permanent collection of taxidermy, firearms and tapestries. Wandering visitors were surprised to find a cartoonish deer head sitting placidly between the muscular legs of a stuffed, fanged leopard, its ears perked as if curious about the viewers just beyond its glass-encased home; or a rabbit head sculpture regally surveying the room from its perch on an ornate desk. Her work has been featured in other unusual spaces, like the Chateau du Rambouillet and a kindergarten.
Last month, the French Institute Alliance Française in New York exhibited Pétrovitch's Inklings, a collection of ink-wash drawings, along with her video installation, Le loup et le loup (The wolf and the wolf). A sequence of over 200 drawings, Le loup et le loup (a twist of Jean de la Fontaine's fable, The Wolf and the Lamb) tells the story of two children whose innocent play is interrupted by the savagery and violence of hunters. Inklings similarly evokes violent fable elements with ink portraits of children and animals literally bleeding together on canvas.
Pétrovitch took the time to talk with Art Animal about her inspiration as an artist and how it all started.
Art Animal: Tell me a little bit about yourself as a professional artist. When did you first start showing your work?
Françoise Pétrovitch: I began showing my work when I was 25 years old – essentially paintings and drawings on school notebooks or postcards.
AA: Have you always wanted to be an artist?
FP: Yes, I've wanted to draw since I was six years old and I never changed my mind. At the time I said that I wanted to draw because I didn't know what an artist was.

AA: Are there any particular artists you have always looked up to?
FP: I discovered Degas when I was rather young from a monographic book. I have never stopped admiring him. I like his rigor, his strong sense of composition, his fierce but incisive eye.
AA: What was one of the first things you ever drew?
FP: Princesses on swings being pushed by Prince Charmings!
AA: Do you have a favorite children's story that gives you inspiration for your art?
FP: I would say [the French fairy tale] Donkey Skin because of the dresses, which are the colors of the weather, the moon, and the sun.

AA: How has your art developed since you first started doing exhibitions?
FP: My art develops continuously while always maintaining drawing as its motor. Whether it becomes a film or a sculpture, drawing is always the starting point.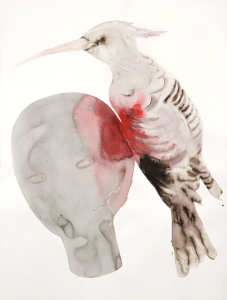 AA: Tell me about the inspiration behind Inklings. What is the process behind creating one of the ink washes?
FP: I always create my drawings spontaneously, without preliminary sketches. The drawings are organized by series. They are large ink drawings: an animal head and a human head are attached, as if fused together. Or "confused." There is an ambiguous feeling that comes out of it, both tender and dramatic at the same time.

AA: What I find most interesting with your work is how you manage to maintain a balance between two completely opposite reactions – grotesque and playful (like many of your Inklings), disconcerting and sweet, innocent and violent (such as Le loup et le loup). How do you find a balance between the two? Is that something that you intend to come out in your work, or does it come naturally?
FP: I am concerned with the idea of the double, with this ambiguity. I'm interested in the fragility as well as in the boundaries between the two. Who is on the good side? Who is on the bad side? This is why, naturally, the two are always in a pair.

AA: You recently had a show at the Museum of Hunting and Nature, integrating your art into the museum's permanent collection. What was that like? How did you choose where to place your art?
FP: I conceived of certain pieces in terms of the spaces. For example, for the blue room, I took a sample of the tapestry on the walls and tried to find the same blue for the enamel on my sculptures. It is a hunting museum and I played with camouflage, like an animal camouflaged within the décor. I also wanted each display to be different. Sometimes the relationship is narrative, sometimes formal, sometimes off-kilter.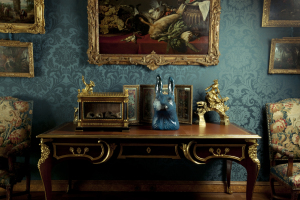 AA: You have created art through a variety of different mediums, from pencil, to video, to stone, to steel. Do you have a favorite medium to work with?
FP: The choice of the material depends on the direction I take: sometimes a pencil's fragility is necessary, sometimes the hardness of metal imposes itself.
AA: Do you have any projects coming up that you would like readers to know about?
FP: I am currently working with the Sèvres [porcelain] manufacturer to create a dinnerware set. It is a very special exercise. I've imagined around twenty different characters with scenes that blend into each other and harmonize with each other to tell a different story each time. This will be a dinner set that permits different combinations – different atmospheres for each table setting.