Art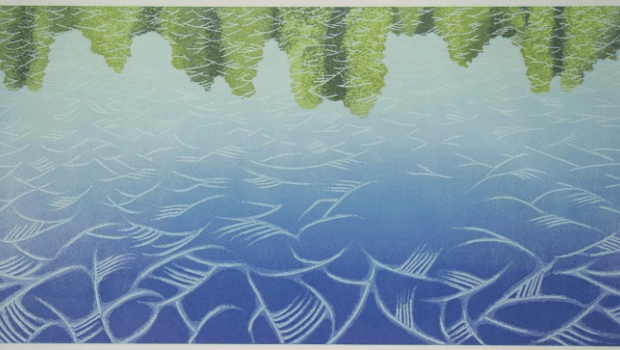 Published on September 11th, 2012 | by Angela Son
0
Artist Elizabeth Busey's "Connections: Linoleum Block Prints"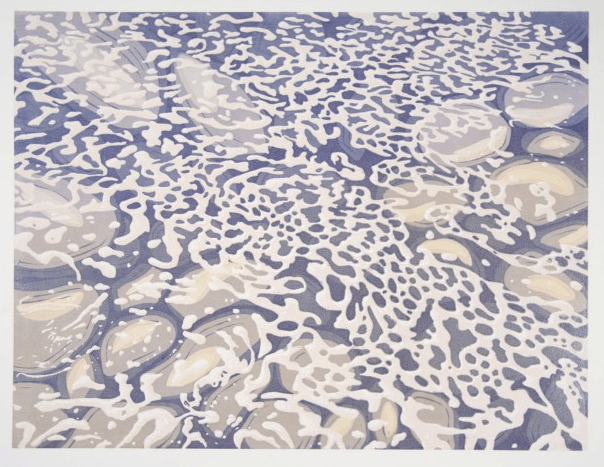 Spirals, swirls, ripples, horizontal lines.  There's a healing element when we look at the patterns of the nature.  Water drops, a body of water, mountain ridges, leaves and flowers on artist Elizabeth Busey's linoleum prints are semi-abstracted and reconstructed in a way that emphasize the flow of nature's energy. 
Busey believes the nature of her work is compatible with the areas of healing, which is why her exhibition, "Connections," a collection of 16 linoleum block prints, is currently on display at the Gifts of Art gallery in the University of Michigan Health Systems.  Here, the arts are combined with an environment of care, providing comfort to the patients.
"Our experience with nature, in one sense, is very communal and shared.  In another sense, we can have different reactions to what we see," Busey said. "But there's sort of this knowing that we've seen this before."
Busey is most interested in working with forces that shape the world – growth, pressure, erosion, and decay – and the patterns created from them.  These patterns evoke in her feelings of excitement, grandeur, stability, peace and strength.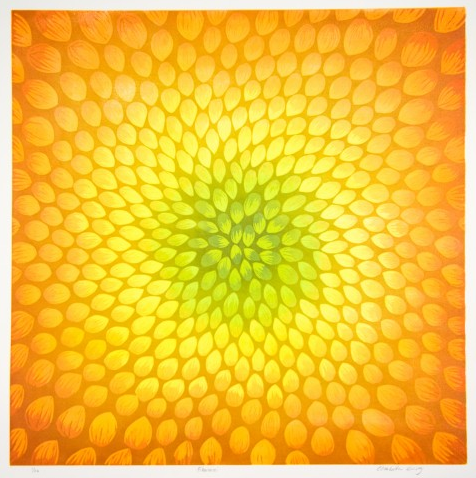 Indeed, Busey's prints visibly show the existence of nature's energy in many different aspects:  the ripples in Long Pond Stillness, clouds in March of the Cumulus and the leaf-like fibers in Fibonacci all seem to contain innate power in quiet movement.
A self-taught printmaker from Bloomington, Indiana, Busey says printmaking is all about taking ink and using matrices to put it onto paper.  Relief printmaking uses either a woodblock or, in her case, a block of linoleum (linoleum in printmaking is cheap, easily available and easier to carve than wood).
Originally from Asia, printmaking has historical roots going back hundreds of years.  By the time it hit Western Europe printmaking was being used to illustrate the Bible.  Artists of the past such as Rembrandt, Goya, Degas, Picasso and Warhol made great works through printmaking medium.  However, a lesser known fact is the technical legacy of the highly toxic environment of printmaking studios.  Busey worries about this aspect to her art since her basement studio doesn't have a great ventilation system, making her extremely careful in using toxic products.
On her blog, The World in Relief, Busey writes about her compromises to cope with the toxic environment of printmaking.  Oil-based ink, although desired for transparency, takes a lengthy oxidation process, which calls for toxic driers to combat this problem.  Instead of the commonly used cobalt drier, admittedly pretty toxic, Busey opts for cobalt and manganese driers.  The drier has a consistency of runny honey and is worked as ink for glass.  Every time, Busey uses toxic products only in an open garage and is careful to clean up the oil-based ink with "soy solv," a natural cleaner made of soybeans.
But printmaking isn't all bad, of course. Busey loves the fact that printmaking is fairly unpredictable; though she has control over what she carves, there is no control over how the ink will act.
"It's kind of like an adventure," Busey said.
Just like watercolor painting, she must carefully control the spread of ink on the print. For a long time the biggest challenge for printmakers has been learning to line things up because otherwise you end up with a sloppy product, and you can't reverse your mistakes and go backwards.  By the time Busey finishes making a print using transparent layers of color, there are usually eight to ten layers of carefully set ink.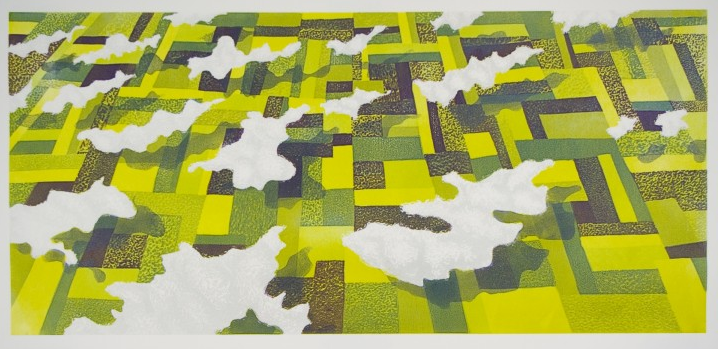 In the near future, Busey plans to expand her press machine to create larger works that people may want to purchase for their homes.
"I hope that my prints make people stop and ponder a little bit," Busey said.
<em>Busey's exhibition in the Gifts of Art gallery in the University of Michigan Health Systems started August 20 and goes through October 8.</em>