Art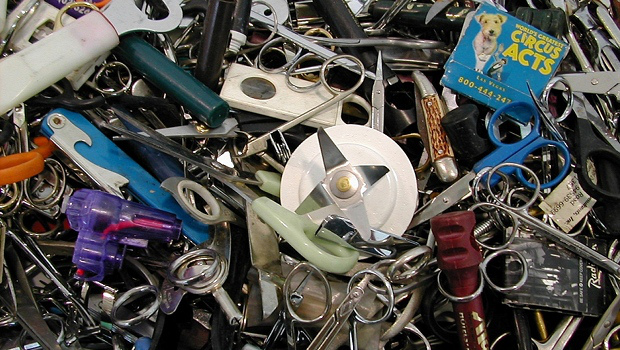 Published on December 4th, 2012 | by Elizabeth Coleman
0
Review: (In)security by Michele Pred
In a few words...
Summary: Michele Pred explores the politics of national security while taking a deeper look at the cultural value of material possessions.
If anthropologists were to assess items representing the aftermath of September 11, 2001, they might include the piles of random materials left behind at airport security checkpoints across the country. For over 12 years, conceptual installation artist Michele Pred has been an anthropologist of sorts, gathering items like lighters, matchbooks, sewing scissors and pocket knives that were confiscated at the security checkpoints at San Francisco International Airport. In her newest exhibit, (In)security, on display at San Jose State University's Thompson Gallery, Pred uses these items to visually represent how our lives have been impacted in unexpected ways since 9/11.
Many of the items, such as sewing scissors or cell phone chargers, are seemingly harmless, calling into question the state's ability to assess real danger (though for the record, TSA now allows many of the confiscated items in Pred's exhibit to go through security, including sewing scissors). Pred's diverse array of "dangerous" materials can be regarded as cultural residue of the aftermath of 9/11: a brief anthropological snapshot of a turning moment in this nation's history.
The exhibit includes a list created in 2002 of prohibited items, many which seem so self-evident that it is laughable. Do we really need to be reminded that bows and arrows, compressed air guns, meat cleavers, spear guns and automatic weapons are not allowed on flights? Apparently we do, since a daily detection log from July 3, 2002 reveals that a compressed air gun was confiscated at SFO, along with four corkscrews, a plethora of metal scissors with pointed tips, three hardware tools, two knives, three screwdrivers and three matchbooks.
By placing the confiscated items together in recognizable shapes such as a heart or the red, white and blue of the American flag, Pred brings new meaning to the material. There is a rewarding subtly to the choice of items in the exhibit. Her piece Fear Culture 2 consists of numerous confiscated items in petri-dishes placed in the shape of a large American flag. Many of the items have a highly personal nature, as though they were once someone's favorite pocket knife or lighter. Made up of confiscated matchbooks, Matchbook Heart seems almost retro, even though the materials are little more than a decade old, since the images on the matchbooks' cardboard covers have faded, furthering the impression that this exhibit is an anthropological look at this relatively modern moment in history.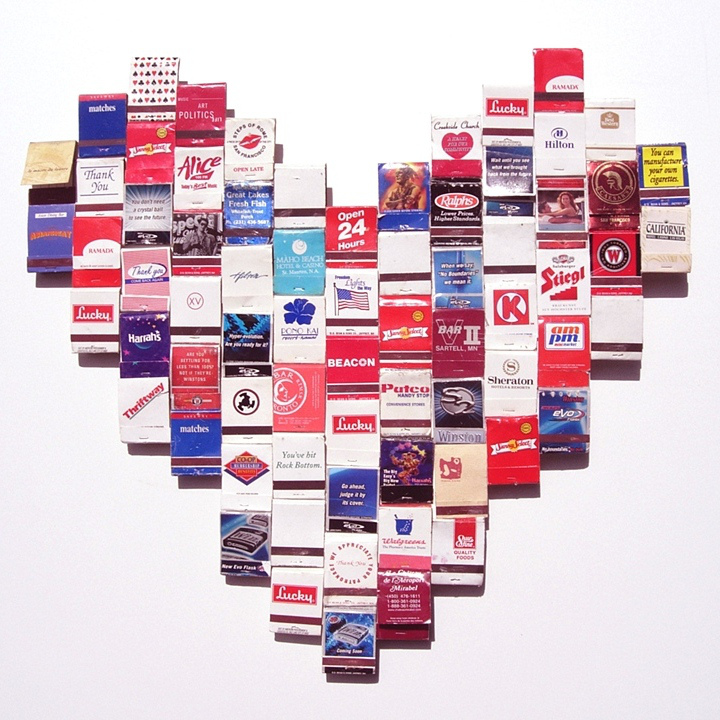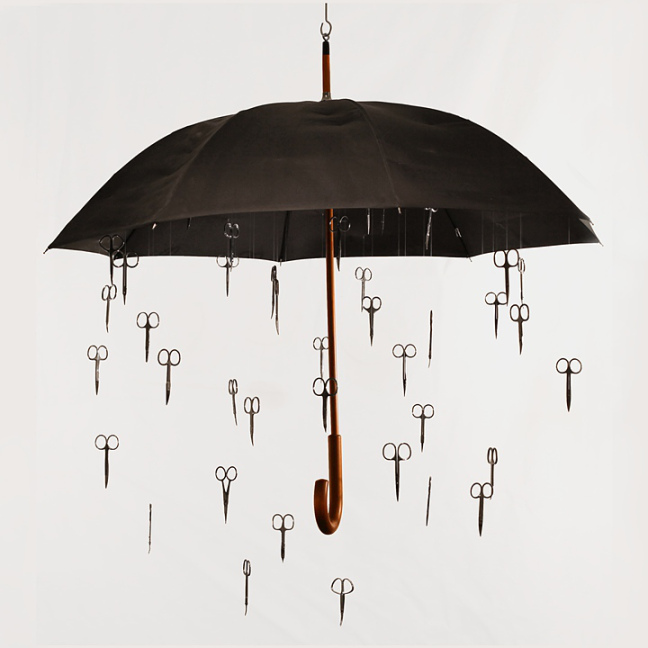 One of the more surprising pieces was Blending Security, an installation consisting of five confiscated blender blades lined up behind glass. The piece made me realize the scope of materials that people consider necessary for travel. I was unaware that people actually attempt to travel with things like blenders, something that seems to me to be an obvious hazard. (However, the official TSA blog reported that agents confiscated a grenade launcher in Seattle earlier this year, so people have done crazier things.)
On the surface, Pred's exhibit brings you face-to-face with the politics of national security and reminds her viewers the extent that we have been impacted and inconvenienced on a day-to-day basis since 9/11. It raises several questions around the government's ability to dictate our lives. Upon greater reflection, Pred calls into question the varying levels of value we place in material possessions. Sewing scissors and matchbooks may not incur much of a sense of loss, but the loss of a family artifact, such as a pocket-knife handed down through generations, would have significantly more impact on an individual's life. How does that kind of loss affect the individual, at the expense of maintaining national security? Alongside the more obvious political questions, Pred's exhibit delves into deeper and highly personal questions like these, leaving the individual to fill in answers.
(In)security will be on display at the Thompson Gallery until December 14. For more information about Michele Pred, visit www.michelepred.com.