Books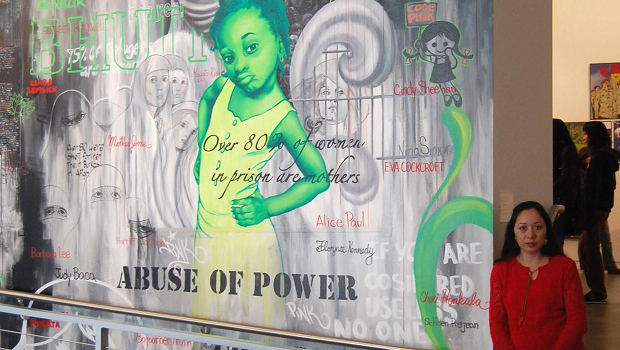 Published on January 3rd, 2013 | by Julie Davis
0
Review: Women of the Underground: Art by Zora von Burden
In a few words...
Summary: Women of the Underground: Art is an intriguing snapshot of contemporary female artists.
A collection of in-depth interviews, Women of the Underground: Art takes an inside look at the work of 24 female artists who are "cultural architects, influencing generations with art that is innovative, pushes boundaries, and dares to question, investigate and redefine society in the spirit of the underground."
Perhaps because of these general parameters, Women of the Underground: Art presents an eclectic assortment of artistic disciplines. Far from ordinary, these artists sculpt with bones and create art out of living cells and their own bodies. They dance in the emotional rawness of Butoh and create miniature worlds in boxed dioramas, detailed drawings or stop-motion animation.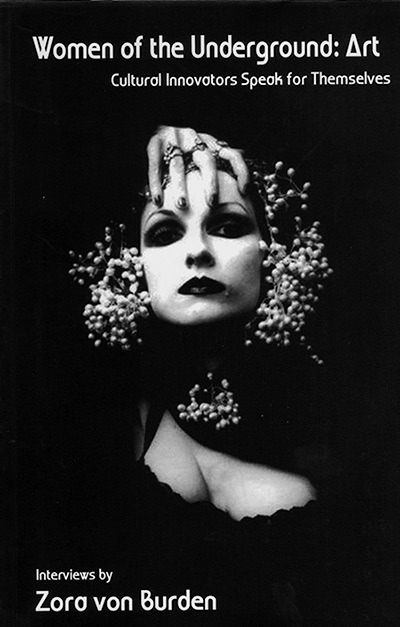 The interviews are presented in no particular order or timeline; the overall effect is a loose accumulation of history, from subway graffiti before the dawn of hip-hop and the punk scene at its height, to the Warhol factory, the Fluxus art movement and the International Mail Art Network.
Some of the women are international stars: Italian actor and writer Daria Nicolodi, who turned a grandmother's bedtime stories into the horror film classic Suspiria; French photographer Irina Ionesco, who worked with Givenchy, creating fashion spreads for Vogue and whose photography plays on the dark symbolism and mythology of the female form; and Greek painter Litsa Spathi, co-founder of the Fluxus Heidelberg Center.
Up-and-coming artists are represented as well, such as San Francisco's EXIT Theater founder Christina Augello, kitsch-pop painter Lisa Petrucci and animator Christina Cegavske. There is a lovely sense of greatness to all this: a community of artistic women living out their dreams to the fullest potential.
The interviewer and editor of the book, Zora von Burden, is author of a similar book on female musicians, Women of the Underground: Music. von Burden clearly knows what to ask to get good results from her subjects; the book is ripe with wonderful quotes, insights and memories. For example, performance artist Johanna Went remembers being told she couldn't perform at the Museum of Contemporary Art in Los Angeles: "the person from the effects company who hired me told me they thought I would destroy something." Collage and installation artist Barbara Kruger, whose mock-propaganda billboards and mainstream magazine work reaches a large audience, comments that she finds the word subversive "incredibly romantic" and not really descriptive of the work that she does. "To me, subversion is, 'Oh, I'm getting away with something.' It's really possible to make important changes and to do important, powerful work and not to have to think that you're a subversive."
That said, von Burden doesn't supply a great deal of context or editorial commentary, something that might have benefited the collection. For an artist such as Orlan, the French performer whose body art involves live plastic surgery transmitted by satellite to galleries in multiple cities, discussing the art itself feels like only half of a fascinating story; as a reader I wanted more (for example, how did Orlan ever manage to arrange all of this?). However, some of the works presented here would require full-length books of their own to be fully explored or explained.
Interviews vary from fewer than five pages to more than ten, each including a straightforward, informative introduction and a single photograph of either the artist or a representive work: a frustratingly spartan presentation for a collection of visual artists. Then again, would visual representations of each artist's work only distract from the artists' words? Would occasional editorial notes (such as mentioning that Daria Nicolodi's Suspiria was the last film to be shot using the three-strip Technicolor film process) have been more intrusive than helpful? Perhaps performance artist Michelle Handleman has it right when she points out, "Silence can be as painful as the roar because it forces you to confront yourself, your own inner void."
Given the book's premise, it may or may not be ironic that very little connects these women other than their gender. Some artists even contradict the idea that gender has anything to do with their work. "I always refuse this approach of males versus females in art," says performance artist Marina Abramovic. "You know, the art has to be one when dealing with important issues. Pain, suffering, dying, sexuality, life, all issues have been addressed by male and female artists since the beginning of humanity. It's nothing new."
Others recognize that their gender is a key element to their success and/or message. "Things are better in the art world than they ever have been for women and artists of color," says a representative for the activist group The Guerilla Girls, "and we have helped that change but there's still a long way to go. We are still condemning the artwork for its lack of ethics and tokenism."
Although the range of commentary and experience on display here is incredibly rich, the two longest interviews are easily the most memorable. Lady Pink's description of the graffiti scene in 1970s New York reads like a scene in a film: "You could stay all night or do something in five or ten minutes. Way back when we did subway trains, you had to go with people who knew where to go, how to get in, the times and schedules. You sent out a scout, you snuck in shadows, hopefully without making noise. Most all the subway cars were already covered by graffiti. You had to pick and choose where you could paint, who you can go over, and you did your thing…and you got into these places in all kinds of ways: climbing walls and fences, running through tunnels, playing with live trains."
Penny Arcade's impressions of the Warhol factory artists and scene are just as distinct. "Andy was not a director," she says of Warhol. "He was not creating or defining the women he put on film. He just used them as he found them, usually like an arrow pointing to the main character who was the focal point in the scene. There was also a great sense that he didn't care what happened to them, that they were not real to him. With the exception of Brigid Berlin, the lunatic genius; Nico, the ice goddess; and Mary Woronov, the Amazon warrioress, they were all interchangeable."
If there's one thing that this collection makes clear, it's that "interchangeable" is not a word that can be applied to any of these artists. Women of the Underground: Art is an inspired addition to any art historian's bookshelf and an intriguing snapshot of contemporary female artists.
Get a copy of Women of the Underground: Art from Manic D Press at www.manicdpress.com.