Art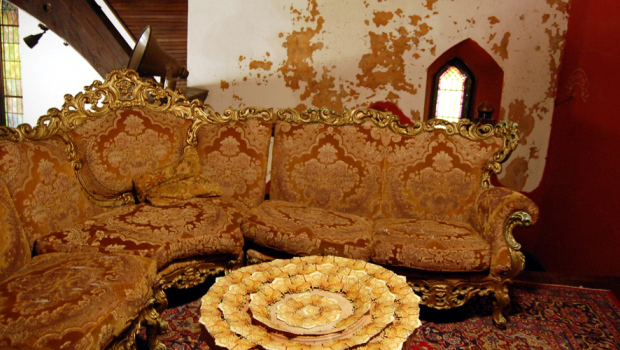 Published on November 9th, 2012 | by Mallory Nezam
0
The Community-based Art of Carlie Trosclair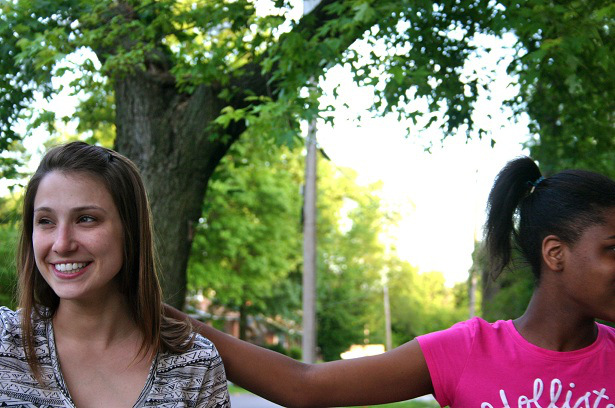 So, what is an artist residency, really? Do artists just escape into the woods for weeks and compose their next brilliant masterpiece? What happens there that doesn't happen in regular places? And how does the growing group of site-specific, community-minded artists negotiate the deep relationship with two drastically disparate places: their community and their resident studio?
Installation artist Carlie Trosclair is in the midst of exploring these questions. An emerging St. Louis-based community artist, she has already made heads turn with her work. Winner of the 2012 Riverfront Times Mastermind Award, a Fellow of the Community Arts Training Institute and Artist-in-Residence at the Rebuild Foundation, Trosclair has proven herself to be a force that resonates in many different settings. Though she is a trained MFA graduate who proudly exhibits her work at galleries, she has begun to develop a new understanding of how to be an artist over the past year. Trosclair's recent place-based approach has altered her practice dramatically and complicated her relationship to studio-intensive residencies.
"Community art is a completely different language and different way to approach art-making," Trosclair said.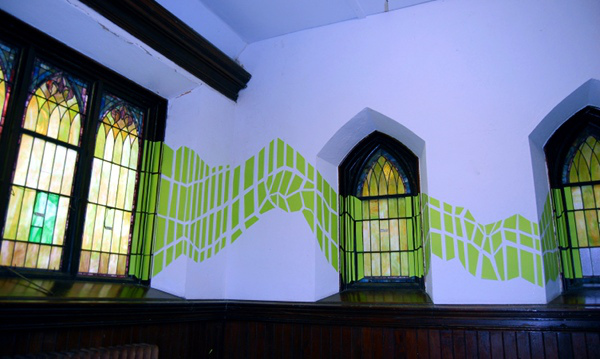 By way of New Orleans, Trosclair migrated to St. Louis, MO in 2008 to attend the MFA program at Washington University's Sam Fox School of Design and Visual Arts. Leah Greenbaum of St. Louis' Riverfront Times wrote  in a recent article that it was during this time that Trosclair's focus shifted from painting to full-scale installations. Greenbaum noted the way in which the artist "began to challenge [the] viewer's conditioned response to the built environment" by engaging in a dialogue with materials in domestic spaces, like wallpaper, textiles and furniture.
Trosclair's work disrupts our habituated interactions with environments, suggesting that space is more complex than we typically notice. Her understanding of "environment" continues to expand and evolve as she questions the relationship between the physical, social, historical and political.
At the time Art Animal met with Trosclair, she was three weeks into her 4-week long residency at the Woodside Contemporary Artist Center in New York. She had recently learned — after fleeing her assigned studio space for a nearby abandoned building during a summer residency at the Vermont Studio Center — that what she's looking for in a residency is something more than what she calls a "white cube space." Drawn to Woodside because of its unique setting within a mid-19th century stone church, Trosclair became submerged in an architectural goldmine. The church's interior is raw with low ceilings, stained glass and many of its original detailing.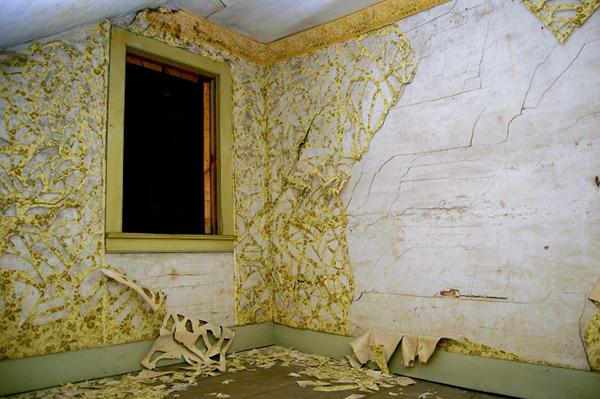 Trosclair explained that when she first enters a new space, she takes a step back and begins to document it. She wants her art to be a response to that space, and therefore begins by "waiting for something to speak." At Woodside, this process has taken the form of photographs and sketches.
"The white cube [at other residencies] was different," Trosclair said. "There's much less to work with and you're starting from a completely blank space."
Yet, Trosclair encountered an unexpected challenge in the unconventional setting of the old church.
"I'm always looking for snippets in architecture that I can work from," Trosclair said. "Here, there are so many details it's almost overwhelming."
Although she admits that art-making becomes more difficult the more site-specific it gets, Trosclair enjoys the push-and-pull of "finding what [she's] attracted to but complimenting it rather than overshadowing."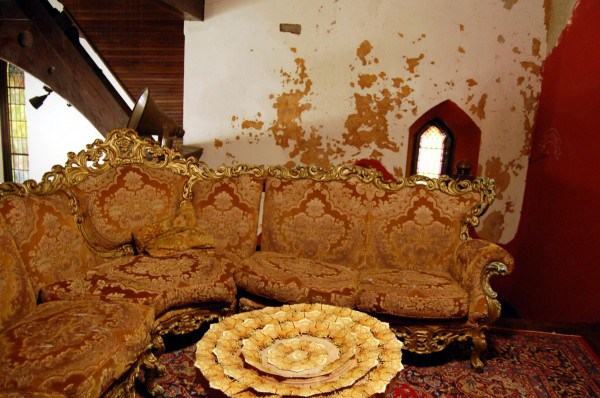 As Trosclair probed around her new space at Woodside, she knew that her regular materials were not going to cut it. She chose to let the environment guide her, even if that path led away from where she started or where she's been. Her attention was drawn to the stained glass windows in her studio and their interplay with light. She decided to cede her usual textiles and wallpaper, using photo documentation, image manipulation and the repetition of images instead.
"It's hard having an idea of yourself, a label and the concepts and materials you use," Trosclair said, "and then the space calls for something else."
However, Trosclair's receptiveness and vulnerability to her environment is what makes her art so evocative. She invites the viewer to literally enter into that exposed relationship between the artist and the space. Upon entering, the viewer becomes a part of the art environment, both complicating and contributing to the evolution and fluidity that is the nature of Trosclair's work.
Trosclair demonstrates her artistic openness within her community-based practice in St. Louis; her work is prefaced by her ability to engage in the discovery process of other community members. She noted that embedding herself in a neighborhood "has changed [her] studio practice to be more accessible, resourceful and flexible in order to be a co-facilitator in a creative process rather than the sole decision maker of a project."
Trosclair values her residencies because they give her an opportunity to refine her technical skills of art making. However, collaborative and community-based approaches to art are central to Trosclair's values as an artist. When Trosclair is in Missouri, her work is no longer confined to a studio, and she can instead focus on becoming immersed within a community. She is currently a collaborative artist at the Rebuild Foundation, a community-driven nonprofit founded by artist Theaster Gates who manages projects in Omaha, Detroit, Chicago and St. Louis; over the past year, she has spent time at the Rebuild Foundation's Pink House in Pagedale, MO, where she has been fostering relationships with locals and exploring the possibility of collaborating with them.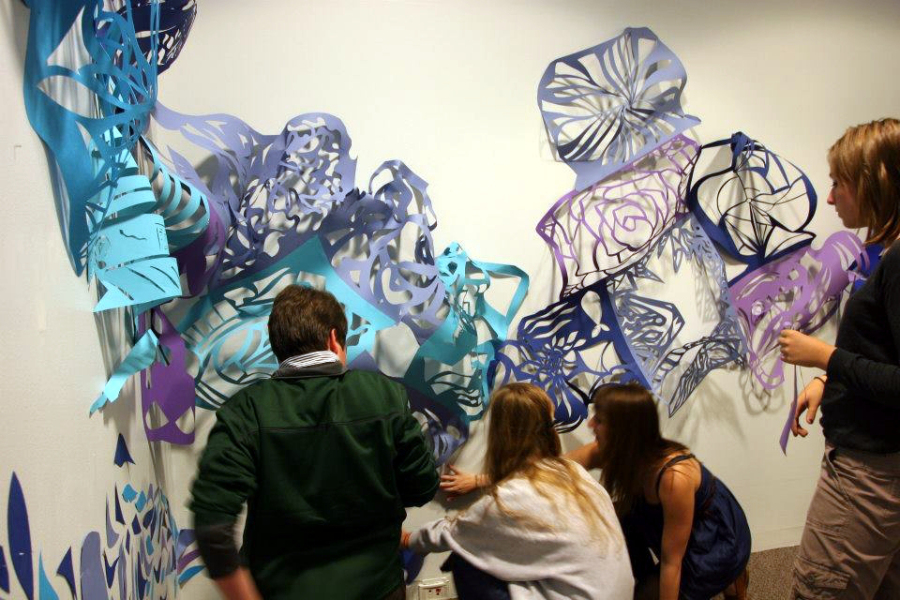 "Working long-term within the fabric of a neighborhood has changed my way of thinking about making," Trosclair said. "What is usually a very private trial and error process becomes an open, shared experience that is influenced and fueled by the individuals who take part, no matter what capacity. It's about creating and discovering together and is entirely dependent upon and built through the neighborhood's participation."
Transitioning from her secluded studio practice at Woodside to her immersive, collaborative life in St. Louis is hard, but necessary to Trosclair's artistic development. She is grateful to have the opportunity to create within a studio and a community, but still struggles with her own internal dialogue. She is always asking herself how she can bring her two lives into coexistence, and how to live in the balance.
"It's almost intimidating," Trosclair said. "How to you mend the two? How do you make art in isolation from the community? How do I go back? It's almost like a dual life."
For place-based artists like Trosclair, location is everything. Setting becomes their muse, their canvas. So why does Trosclair elect to stay in the small city of St. Louis, veering away from New York, Los Angeles, Chicago?
After fumbling to find the right words, Trosclair finally concluded that artists in St. Louis "are in tune with what is going on in the fabric of the city that they love. They want to promote it, share it, support it and push its bounds."